6 Killed as Militants Plough Van into Crowd on London Bridge, Stab Others
TEHRAN (Tasnim) – Militants drove a van at high speed into pedestrians on London Bridge before stabbing Saturday night revellers on the street and in nearby bars, killing at least six people and wounding more than 30.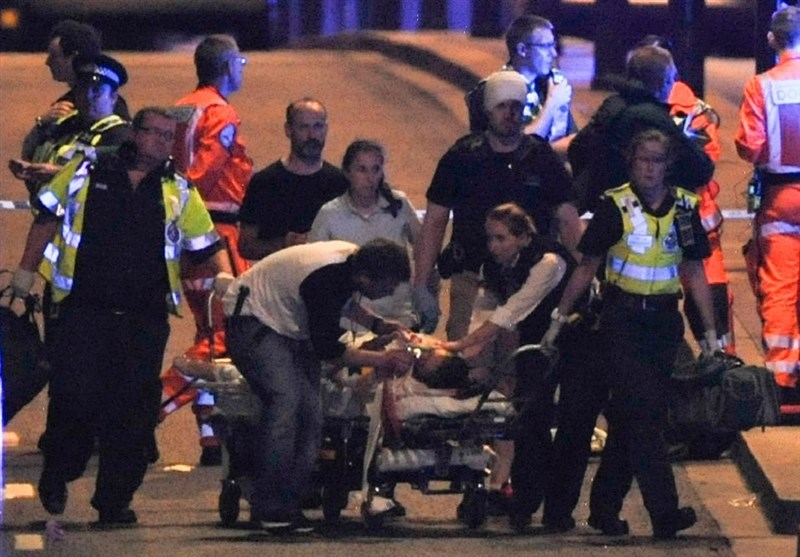 Armed police rushed to the scene and shot dead the three male attackers in the Borough Market area near the bridge, as authorities urged Londoners on Twitter to "run, hide, tell" if they were caught up in the violence.
The attacks come days ahead of a June 8 election and less than two weeks after a suicide bomber killed 22 people at a pop concert in Manchester in northern England. There was no immediate claim of responsibility.
"Sadly, six people have died in addition to the three attackers shot by police," Mark Rowley, Britain's top anti-terrorism officer, said, Reuters reported. He said the three attackers had been wearing what looked like explosive vests that were later found to have been hoaxes.
The BBC showed a photograph of two possible London attackers shot by police, one of whom had canisters strapped to his body. Hours after the attack the area remained sealed off and patrolled by armed police and counter-terrorism officers.
The London ambulance service said more than 30 people had been taken to hospitals across the city. Three major London hospitals were on lockdown to keep patients and staff safe.
A Reuters reporter said some time after the attack began that he had heard loud bangs near the Borough Market area, but these appeared to be controlled explosions by security services.
Streets around London Bridge and Borough Market, fashionable districts packed with bars and restaurants, would have been busy with people on a Saturday night out.
Witnesses described a white van careering into pedestrians near London Bridge and knocking over several people.
"It looked like he was aiming for groups of people. I froze because I didn't know what to do," Mark Roberts, 53, a management consultant, said. He saw at least six people on the ground after the van veered on and off the pavement.
"It was horrendous," he said.