Leader Calls Islamic Revolution Realization of Divine Will by Imam Khomeini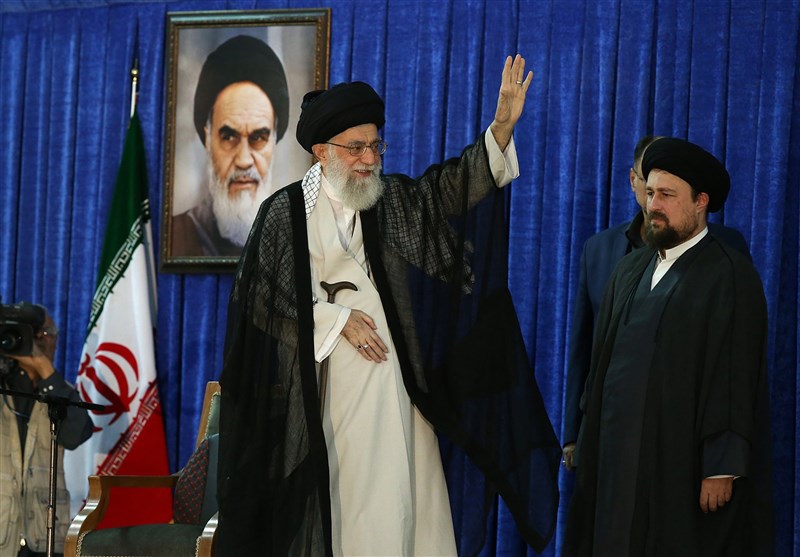 TEHRAN (Tasnim) – Leader of the Islamic Revolution Ayatollah Seyed Ali Khamenei highlighted the deep changes that occurred in Iranian society following the 1979 Islamic Revolution, describing the victory of the popular uprising as "the realization of divine will by Imam Khomeini".   
"The victory of the Islamic Revolution, which was the realization of divine will by Imam Khomeini with the help of the people, was not only a political change or losing of power by a group and taking the power by another group," Ayatollah Khamenei said during a ceremony to mark the 28th demise anniversary of Imam Khomeini.
"Rather, the Islamic Revolution was a deep and massive change in the country's political arena and the context of Iranian society," the Leader added.
Ayatollah Khamenei further hailed the grandeur of Imam Khomeini's personality, saying that efforts should be made to prevent distortion of Imam Khomeini's personality and ideas.
"If something that is true is not repeated with all details and specifications, it may be gradually distorted," the Leader said, adding, "Most of you are aware that there are motivations for distorting the personality of the Imam and distorting the revolution, which was the greatest feat of the honorable Imam."
The secret of the success of Imam Khomeini's movement was that he managed to bring all of the people, particularly the youth, into the scene and keep them there, Ayatollah Khamenei said.
Imam Khomeini's ideas, including freedom, social and economic justice, and the need to get rid of the US domination were among major factors, which attracted the Iranian youth to the revolution, the Leader said.
Ayatollah Khamenei went on to say that because of Imam Khomeini's ideas, young people even in those countries that are subservient to the US, like Saudi Arabia, believe that their countries should be freed from US domination.
The massive ceremony marking the 28th anniversary of the demise of Imam Khomeini (RA) was held at his mausoleum in southern Tehran on Sunday.
Visitors from across the country, as well as high-ranking Iranian officials along with groups of foreign guests and ambassadors, took part in the commemoration ceremony.
Ayatollah Ruhollah Moussavi Khomeini, better known as Imam Khomeini, engineered Iran's 1979 Islamic Revolution, which led to the overthrow of the US-backed Shah of Iran.
Born in 1902, he grew to become the iconic leader of the Iranian nation's struggle in the 1970s against the centuries-old monarchical tyranny.
Imam Khomeini passed away on June 3, 1989, at the age of 87.