Tackling Dust Pollution A Collective Responsibility: Iran's President
TEHRAN (Tasnim) – Iranian President Hassan Rouhani called on regional countries to share the burden of combatting dust pollution, stressing that environmental problems, like other threats, would be settled only through concerted efforts and cooperation.
"We could not overcome the big problem of dust pollution without cooperation with neighboring, regional and world countries," President Rouhani said in an address to a conference on countering dust pollution, held in Tehran on Monday.
The president said 20 percent of the dust pollution in Iran originates from inside the country, while the other 80 percent has foreign sources.
Dust particles in the region arise from a number of countries such as Iraq, Jordan, Kuwait, Syria, Saudi Arabia, Pakistan, Afghanistan and Turkmenistan, President Rouhani added, saying Iran has sadly become a victim of the phenomenon that has damaged the life of its people and agriculture.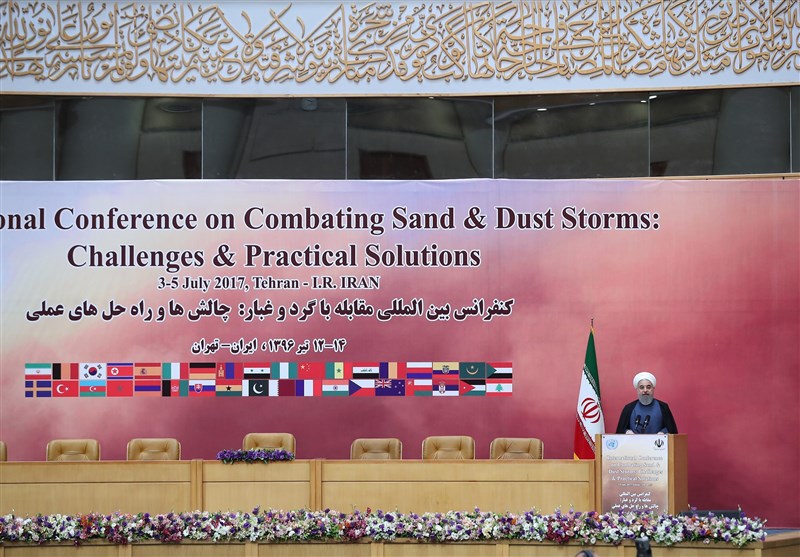 He then emphasized that regional countries should try to strengthen the region instead of seeking to become its strongest country.
"We are members of one family in the major Middle East and West Asia region, and cannot be separated," the president added.
"Today, we should care about a stronger region and should abandon destructive and improper rivalries. The flame of regional wars and rivalries not only are destructive in the world of politics, but also affect the environment and make dusts and sand a pervasive problem," he added.
Iranian residents in the western and southwestern provinces that border Iraq face a growing trend in the influx of fine particles, which are generated by drought-hit marshlands in neighboring countries.
The disruptive dust storms have pushed pollution in those border areas to alarming levels in recent years, raising health concerns.
The particles, carried by winds, can penetrate the lungs and enter the bloodstream, causing serious diseases such as lung cancer, asthma and heart problems.