Anniversary of Mass Burial of Germanwings Crash Victims Marked in France
TEHRAN (Tasnim) - Bereaved relatives of victims of the Germanwings flight 9525, which crashed into the French Alps in March 2015, gathered in a small town southeast of France to pay tribute to the loved ones on the 2nd anniversary of the collective burial of the unidentified remains of the victims.
The memorial service was attended by parents of Milad Hojjatoleslami and the other relatives of the victims.
Milad Hojjatoleslami, the Tasnim News Agency's sports correspondent, and Hossein Javadi, a reporter with Iran's Vatan-e Emruz Daily, were among the victims of the crash.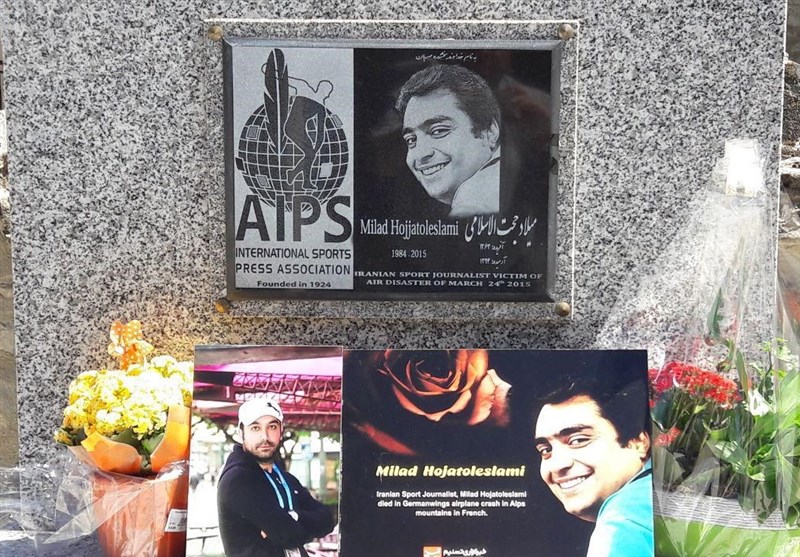 They had travelled to Barcelona to cover a match between Spain's Real Madrid C.F. and FC Barcelona. They then left the Spanish city to cover the Iranian National Team's friendlies with Chile in Austria and Sweden in Stockholm.
In July 2015, the unidentified remains from the 150 victims were laid to rest in one mass grave at France's Le Vernet.
The Germanwings Airbus 320 was en route from Barcelona to Duesseldorf when it crashed in the French Alps, killing all 150 people on board.
Co-pilot Andreas Lubitz, who had a history of depression, had deliberately flown the plane into the mountainside while the pilot was locked out of the cockpit.