Nasrallah: Israel Unable to Initiate New War on Lebanon
TEHRAN (Tasnim) - Secretary-General of the Lebanese Hezbollah Resistance Movement Seyed Hassan Nasrallah on Sunday underlined the movement's preparedness to defend Lebanon, saying the Zionist regime of Israel is no longer able to wage war on the Arab country.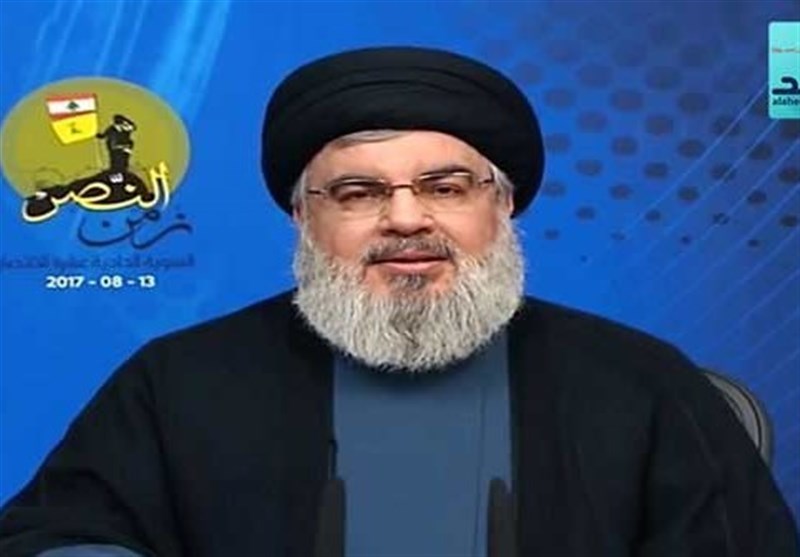 Addressing a ceremony to mark the anniversary of Israel's defeat in the 33-day military onslaught against Lebanon back in the summer of 2006, Nasrallah noted that the main reason behind the victory of Hezbollah fighters in the war with Israel was their patience, steadfastness, valor and faith.
Stressing the rise in Hezbollah's power since the war in 2006, Nasrallah noted that the resistance group is ready to counter any further act of aggression, warning that in case of new Israeli aggression, Israel will face a 100 times tougher response than the one its forces saw during the 2006 war.
Nasrallah added that Israeli analysts were still analyzing the results of that war, because it destroyed their self-confidence and they have admitted to their defeat in the summer war in 2006.
Everything that Israelis say about the power of Hezbollah is because of their defeat in summer 2006 war, Nasrallah said, Press TV reported.
The Hezbollah chief stated that Israelis wanted to destroy Hezbollah, but after 11 years, they say Hezbollah has become stronger and more powerful and this shows that they have failed to achieve the goals they pursued through 2006 war.
Elsewhere in his speech, Nasrallah explained that Hezbollah will not use force in domestic developments of the country.
He added that in return for its victories, Hezbollah does not seek personal, party, or tribal interests, noting that today, the resistance movement is more powerful than ever and the enemy has reached the conclusion that any new aggression against Lebanon will be very costly.
Rejecting any chance of a new Israeli aggression against Lebanon, Nasrallah noted that the time of toying with Lebanon is over and Israelis themselves have owned up to the high cost of such a war and have said that war with Lebanon should not take place.
They wanted to crush the resistance in 2006 war, but they failed to achieve this goal, Nasrallah said.
The Hezbollah chief added that not only Israel, but all those parties which seek to crush Hezbollah at the present time will fail to achieve this goal.
Nasrallah said that due to its inability to wage new war on Lebanon, Israel wants to collectively punish the entire Lebanese nation, and it is putting high pressure on the administration of US President Donald Trump, but they will fail to achieve anything as in the past.