US Says to Ask IAEA Questions about Inspecting Iran's Military Sites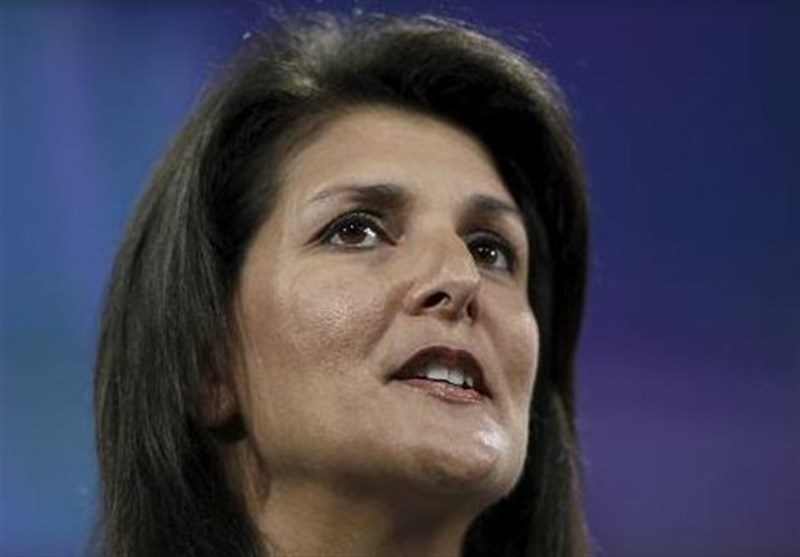 TEHRAN (Tasnim) – The US Envoy to the United Nation, Nikki Haley, said she will pay a visit to Vienna on Wednesday to ask questions about what she described as the International Atomic Energy Agency's plan to inspect Iran's military sites.
According to media reports, Haley meeting with IAEA officials in Vienna is in line with what has been described as a fact-finding mission, which is part of President Donald Trump's review of the nuclear deal reached between Iran and world powers in July 2015.
"If you look ... at past Iranian behavior, what you've seen is there have been covert actions at military sites, at universities, things like that," Haley, a member of Trump's cabinet, told Reuters in an interview.
"There were already issues in those locations, so are they including that in what they look at to make sure that those issues no longer remain?" she said. "They have the authority to look at military sites now. They have the authority to look at any suspicious sites now, it's just are they doing it?"
However, Reuters reported that she was traveling to Vienna to ask questions, not to push the IAEA to do anything.
Iran's top authorities have flatly rejected giving international inspectors access to their military sites, and Iranian officials have told Reuters that any such move would trigger harsh consequences.
"Why would they say that if they had nothing to hide? Why wouldn't they let the IAEA go there?" Haley said.
The US recent move came irrespective of the fact that the IAEA chief in numerous reports has confirmed Iran's compliance with the terms of the July nuclear deal.
That is while, Iran's political and military officials have already ruled out any possibility of foreign access to the country's military sites.
In May 2015, Leader of the Islamic Revolution Ayatollah Seyed Ali Khamenei stressed that Iran will not allow the inspection of its military sites.
The Leader has also ruled out any request for interviews with Tehran's nuclear scientists, describing it as an instance of "interrogation".
"I would not let foreigners come (here) and talk to the Iranian nation's dear scientists... who have expanded this wide knowledge to this stage," Imam Khamenei said at the time.
Deputy Chief of Staff of the Iranian Armed Forces Brigadier General Massoud Jazayeri has also made it clear that any access to the country's military sites or information would run counter to Iran's security and public demands.
Earlier this month, Head of the Strategic Research Center of Iran's Expediency Council Ali Akbar Velayati slammed the US notion of inspection of Iran's military centers as absolute nonsense, stressing that the country would never allow Americans to have access to its security sphere.
Raising subjects such as the inspection of Iran's military sites is a reminder of Don Quixote, Velayati said of American officials, noting that the US once perceived itself as the world's superior power, but its successive defeats in Vietnam, Iraq, Afghanistan and elsewhere proved the hollowness of that notion.
In separate comments, Commander of the Islamic Revolution Guards Corps Aerospace Force Brigadier General Amir Ali Hajizadeh underlind that foreign countries will never be allowed to inspect Iran's military centers.