Houston Residents Flee Harvey Floodwaters for Safety at Convention Center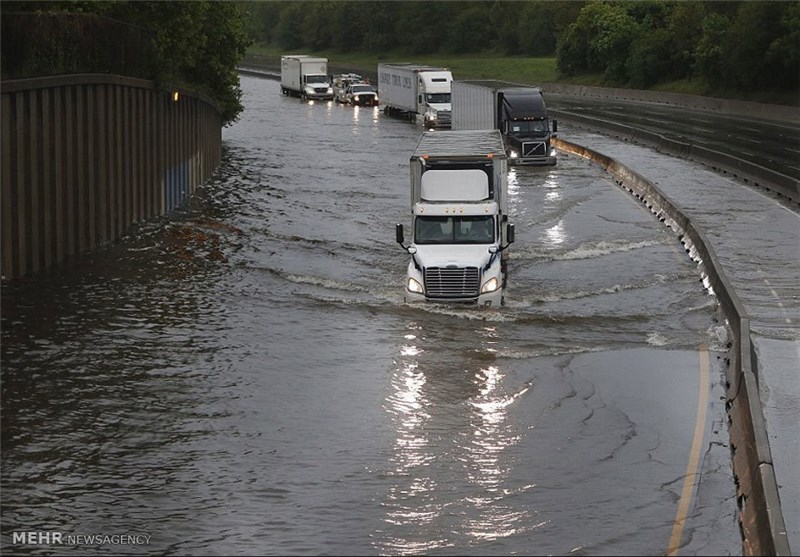 TEHRAN (Tasnim) - Shivering cold and soaking wet, Maria Davila collapsed on the floor of a downtown Houston shelter beside her two grandchildren on Sunday, exhausted after fighting through swirling floodwaters as Tropical Storm Harvey pounded the city.
Davila, one of a 1,000-strong crowd in a makeshift shelter in the George R. Brown Convention Center, arrived in a police car with her husband, her daughter and the children. Her family was one of hundreds forced from their homes by rising water that inundated whole neighborhoods after two days of relentless rain, Reuters reported.
"Water started flooding our house and by last night we were unable to leave," Davila, 56, said as shelter workers swathed the toddlers in wool blankets. "We left our cars and belongings there and started swimming to be rescued."
The sprawling convention center in central Houston is among almost three dozen Red Cross shelters in Texas prepared to house up to 28,000 people driven from their homes by the state's most powerful hurricane in more than 50 years.
By Sunday evening, the convention center was filled with the clatter of chairs and cots being unfolded, the cries of babies and toddlers and instructions in English, Spanish and Vietnamese relayed by translators.
Storm refugees, many still in wet clothes, sprawled on chairs or formed long queues as shelter employees handed out diapers, food, water, clothes, books, games and other essentials.
Red Cross officials said the facility was likely to reach its capacity of 5,000 people soon.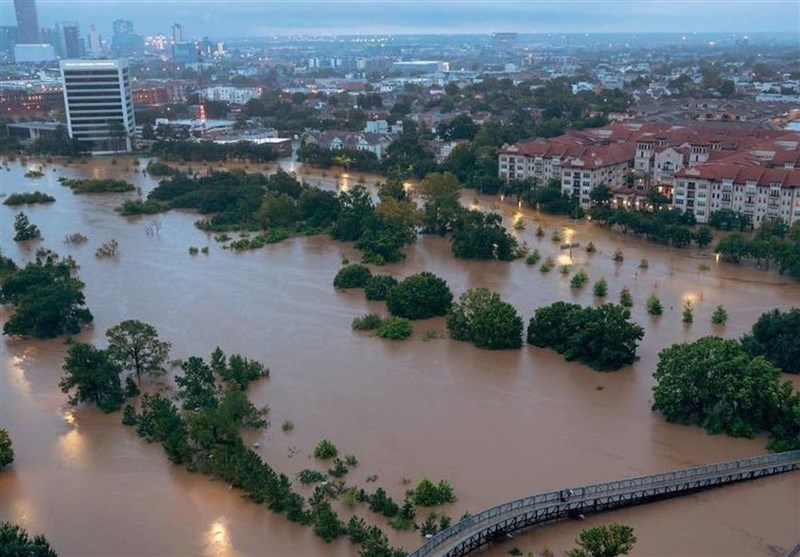 About 75 people were waiting with dogs and cats outside the center, from which pets are banned, to have them taken to an animal shelter.
Rosana Nagera, 27, said she, her husband, their dog and four family members had been rescued by a dump truck manned by firefighters and Coast Guard personnel who had braved waters that eventually submerged the garage of their home.
"We were happy to come this way, it was safer," she said. "Now we hope our dog can be transferred to a shelter."
Fire destroyed a home in his area of northwest Houston at the height of the storm, said Edwin Melendez, but he did not know the cause or if people were inside.
"Our neighborhood always gets flooded but not this bad," said the self-employed Melendez, 23. "This is the worst I have ever seen."
The scene inside the center presented a stark contrast to the chaos at New Orleans' Superdome arena that housed thousands of displaced people following Hurricane Katrina in 2005, and which became an emblem of the hardship that engulfed that city.
The Red Cross has prepared shelters as far away as Dallas, and San Antonio city officials have ramped up operations to host people from Houston and other parts of the Texas coast ravaged by Harvey.
Houston Mayor Sylvester Turner defended his decision not to evacuate the city of 2.3 million people, saying it would have led to a far worse calamity for area residents.
He told a news conference that a decision to evacuate Houston in 2005 in the path of Hurricane Rita, just weeks after Katrina, had led to 20-hour traffic snarls and the deaths of more than 100 people.
"If you think the situation right now is bad, you give an order to evacuate, you are creating a nightmare," Turner said. "Especially when it's not planned."
It was not immediately clear how many people in Houston had been forced from their homes. Officials urged residents to stay put if flood waters were not immediately threatening homes, and told people in secure houses to take in endangered neighbors.