UN Chief: Nuclear Threat, Humanitarian Crisis, Climate Change World's Worst Crises
TEHRAN (Tasnim) - UN Secretary-General Antonio Guterres was moved on Tuesday to condemn the Democratic People's Republic of Korea (DPRK) recent nuclear test, sectarianism in Myanmar and to issue a call to "get serious" on climate change after unprecedented natural disasters spanning the globe.
September, 06, 2017 - 15:28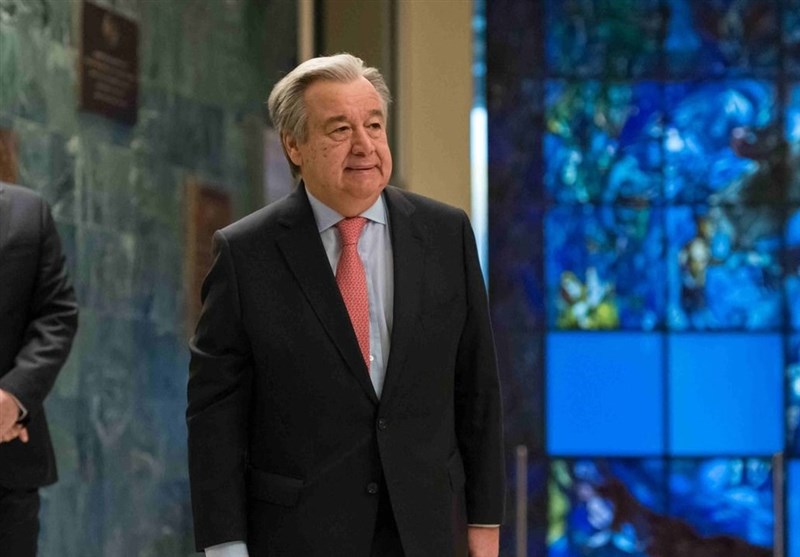 On the DPRK, he told reporters at UN Headquarters, "Let us promote the dialogue and the communication necessary to avoid miscalculation and misunderstanding" that confrontation "may lead to unintended consequences."
The UN chief spoke on three most pressing issues the world faces in the run up to UN General Assembly annual General Debate that opens in two weeks, Xinhua news agency reported.
Guterres said, "The solution must be political," and warned, "The potential consequences of military action are too horrific."
"As Secretary-General, I'm ready to support any efforts toward a peaceful solution of this alarming situation," he said.
When asked what is the most serious threat in today's world, the UN chief said it was "the nuclear threat in relation to the Democratic People's Republic of Korea."
He condemned the latest nuclear missile tests by the DPRK, saying they are profoundly destabilizing regional and international security.
Guterres endorsed Security Council unity, calling it "crucial in addressing the crisis and that unity also creates an opportunity to engage diplomatically to decrease tensions, increase confidence and prevent any escalation."
On the sectarian attacks on the Rohingyas, the UN chief said, "I am deeply concerned about the security, humanitarian and human rights situation in Myanmar's Rakhine State."
The international community must undertake concerted efforts to prevent any further escalation and to seek a holistic solution, he said. "The authorities in Myanmar must take determined action to put an end to this vicious cycle of violence and to provide security and assistance to all those in need. I urge them to ensure unhindered humanitarian access for life-saving relief operations."
Guterres also called for an immediate action plan to address the root causes of the crisis.
He said it will be crucial to give the Rohingyas, -- Muslims living in a Buddhist nation -- either nationality or a temporary at least legal status that will allow them to have a normal life, including freedom of movement and access to labor markets, education and health services.
The Myanmar government calls Rohingyas illegal immigrants from neighboring Bangladesh.
Nearly 125,000 people, victims of unbearable suffering and desperation, have sought refuge in Bangladesh. Many people have lost their lives trying to flee the violence, Guterres said. The grievances and unresolved plight of the Rohingyas have festered for far too long and are becoming an undeniable factor in regional destabilization.
He thanked the Bangladeshi government for its decision to allow refugees to enter the country, and encouraged it to meet the needs of recent arrivals. The United Nations is and will remain totally committed to help.
Guterres also called for full implementation of the recommendations of a report of the Advisory Commission on Rakhine led by former UN Secretary-General Kofi Annan.
While Guterres said the world organization "stands ready to support relief efforts in any way possible" for those suffering in natural disasters, it is also time for "building resilience and reducing disaster risk."
"The number of natural disasters has nearly quadrupled since 1970," he said. "The United States, followed by China and India have experienced the most disasters since 1995 and last year alone 24.2 million people were displaced by sudden onset disasters, three times as many as by conflict and violence."
"Even before the recent floods, preliminary reports for this year show that there have been 2,087 deaths from natural disasters," he said.
"It is true that scientists warn against linking any single event with climate change," the secretary-general said. "But, they are equally clear that such extreme weather is precisely what their models predict will be the new normal of a warming world. With science forecasting a dramatic rise in both the frequency and severity of disasters it's time to get serious about keeping ambitions high on climate action and on building resilience and reducing disaster risk."
Asked if his message on climate change was directed at US President Donald Trump -- who pulled his nation out of the Paris Agreement on climate change earlier this year -- Guterres replied, "We are totally committed to the Paris agreement and we hope that all countries will understand that it's not only the right thing to do it's also the smart thing to do because the green economy is the economy of the future."