White House Chief of Staff under Fire for His Speech Defending President Trump
TEHRAN (Tasnim) - A new volley of criticism is being levied at the White House over Donald Trump's "insensitive remarks" to the widow of a slain soldier who was killed in Niger earlier in October.
October, 21, 2017 - 13:24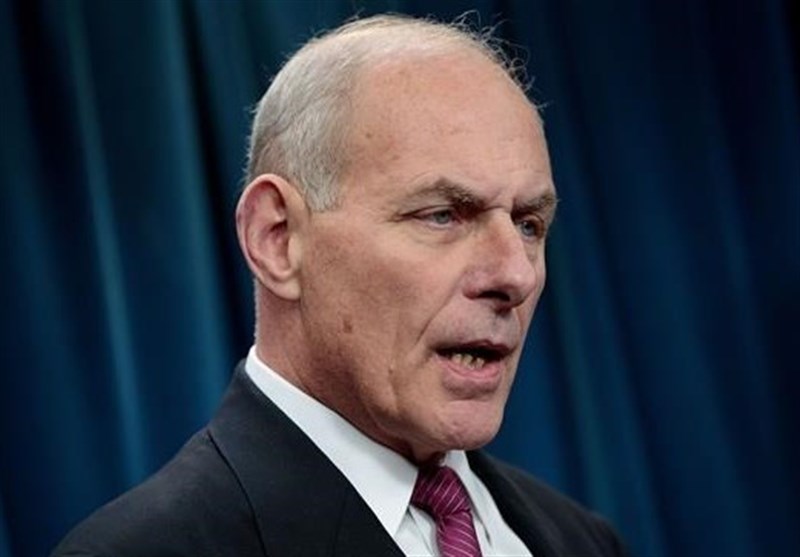 This time, John Kelly is in the spotlight for lashing out at Congresswoman Frederica Wilson, who made these remarks public, with false accusations.
On Thursday, White House Chief of Staff John Kelly threw his weight behind the condolences his President offered to Myeshia Johnson, the pregnant widow of 25-year-old Sgt. La David Johnson, who was killed in Niger on October 4, Sputnik reported.
Donald Trump's comment that the serviceman "knew what he signed up for," was made public by Democratic Congresswoman Frederica Wilson, who was able to listen to the conversation, which was put on speakerphone. The Congresswoman, a friend of the family, was accompanying the soldier's widow and his mother to the airport to pick up his body.
John Kelly not only targeted the lawmaker for listening to the conversation but went on to recall her 2015 address at the opening ceremony of a new FBI field office in Miami. He accused Frederica Wilson of focusing mostly on her own efforts, taking all the credit for getting federal funding for the construction of the building and neglecting to praise the two FBI agents the facility was named for.
"A Congresswoman stood up and in the long tradition of empty barrels making the most noise, stood up there and all of that and talked about how she was instrumental in getting the funding for that building and how she took care of her constituents because she got the money and she just called up President Obama and during that phone call he gave the money, the $20 million to build a building," he said.
South Florida's Sun Sentinel newspaper, however, was quick to post the video of Frederica Wilson's full 2015 speech where she clearly did not claim credit for any fundraising activities and took time to praise the agents.
The Congresswoman responded to the White House representative in her exclusive interview with CNN's "New Day," where she accused him of lying and stressed she "was not even in Congress in 2009 when the money for the building was secured."