US Calls for Renegotiating JCPOA Ridiculous: Iran's President
October, 29, 2017 - 13:13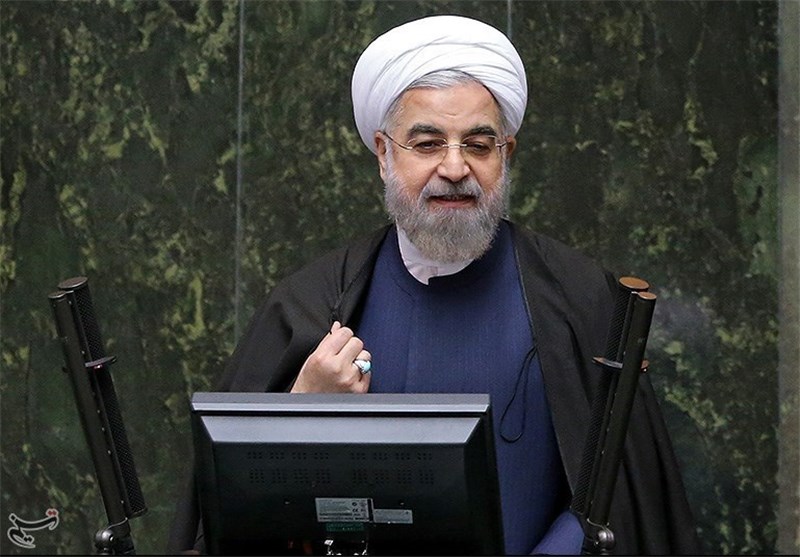 TEHRAN (Tasnim) – Iranian President Hassan Rouhani slammed Washington for failing to live up to its obligations under the 2015 nuclear deal, known as the Joint Comprehensive Plan of Action (JCPOA), describing any call by the US for renegotiating the agreement as "ridiculous".
Speaking at an open session of the parliament on Sunday, President Rouhani highlighted US moves in violation of the JCPOA and said Washington's request for renegotiation is "a ridiculous story" following its backtracking on the deal.
"The US should abandon negotiations and (signing) treaties with the world given the path it has taken," the president said.
"The administration of a country that violates the international obligations of the previous administration is not trustworthy," he stressed.
The 159-page nuclear agreement between Iran and the Group 5+1 (Russia, China, the US, Britain, France, and Germany) was reached in July 2015 and came into force in January 2016.
Since the historic deal was signed in Vienna, the International Atomic Energy Agency (IAEA) has repeatedly confirmed the Islamic Republic's compliance with its commitments under the JCPOA, but some other parties, especially the US, have failed to live up to their undertakings.
In a major confrontational stance against Iran on October 13, US President Donald Trump refused to certify the multilateral deal on Tehran's peaceful nuclear program.
Speaking from the White House, Trump said he will choose not to certify that Tehran is complying with the agreement.