27 Injured after Swiss Cruise Ship Hits Rhine River Bridge Pylon
TEHRAN (Tasnim) - Twenty-seven people were injured after a Swiss passenger ship on the Rhine River hit a motorway bridge pylon near Duisburg in western Germany late Tuesday.
December, 27, 2017 - 17:15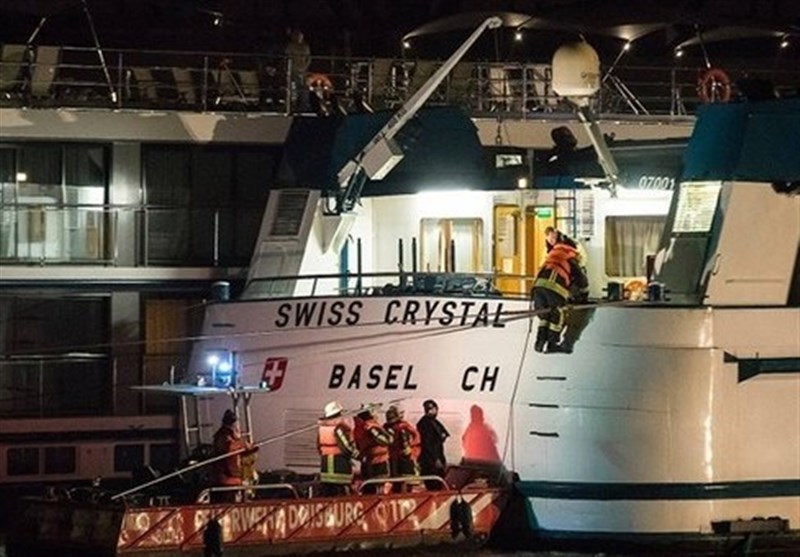 The vessel, named "Swiss Crystal," crashed into a supporting pillar of the A42 autobahn, damaging its bow, as it traveled toward the Netherlands. Due to the size of the rescue operations the number of people reported injured varied.
Of the 27 on board who were eventually confirmed injured, most only sustained minor injuries according to police. Four of those initially categorized as seriously injured were able to leave hospital Wednesday morning, German Press agency (DPA) reported.
The river cruiser had 129 people on board at the time of the accident, with most passengers coming from Belgium, the Netherlands and Luxembourg.
Shortly after the incident, crew and passengers were able to move onto another river cruiser which stopped to assist. A number of fire department boats were also used for the rescue.
Uninjured passengers were able to continue their journey within an hour, after the travel company running the cruise provided another boat. Some passengers also stayed in nearby hotels or were taken home, fire officials said.
The damaged bridge is not likely to be re-opened to road traffic before Wednesday, a police spokesman said, adding it would first need to be checked by structural engineers.
A spokeswoman for Scylla, the Swiss ship owners, said Wednesday morning that she did not have any information as to how the accident occurred or what route the boat was taking.
Water police have now taken over investigations.