Heavy Disruption as French Unions Strike against Macron
TEHRAN (Tasnim) - Public sector workers went on strike across France on Thursday in a "warning shot" for President Emmanuel Macron against his multi-front reform drive, with cancelled trains and flights causing travel headaches for thousands.
Many schools, daycare centres and libraries were closed ahead of demonstrations planned for the afternoon, while other public services such as garbage collection were disrupted in Paris and other cities, AFP reported.
"The government needs to be paying much more attention to how things really are," Force Ouvriere union chief Jean-Claude Mailly told BFM television, citing "serious worries" among public sector workers.
The walk-outs and demonstrations are the latest test of strength for 40-year-old centrist Macron as he pushes ahead with a new phase of his agenda to overhaul state rail operator SNCF and other public services.
Thousands of public servants had already staged a one-day strike in October against his plans to cut 120,000 jobs over his five-year term, as well as a pay freeze and a plan for more outsourcing and voluntary buyouts that unions say will remove job security.
France's once fearsome unions have regularly forced governments into policy U-turns in the past, but Macron and his ministers have vowed not to yield.
More than 140 protests have been planned across France in total, with the biggest set to take place at the Bastille monument in Paris in the afternoon, where unions expect 25,000 demonstrators.
The Paris demonstration, bolstered by rail workers contesting plans to end the special status for new hires at the SNCF, is "a warning shot" against the proposed changes, said the UNSA rail union chief Roger Dillenseger.
Just two of every five high-speed TGV trains were running Thursday morning, and half of regional trains across France had been cancelled.
Four Eurostar trains between London and Paris were cancelled, as were about a quarter of the trains serving other foreign destinations.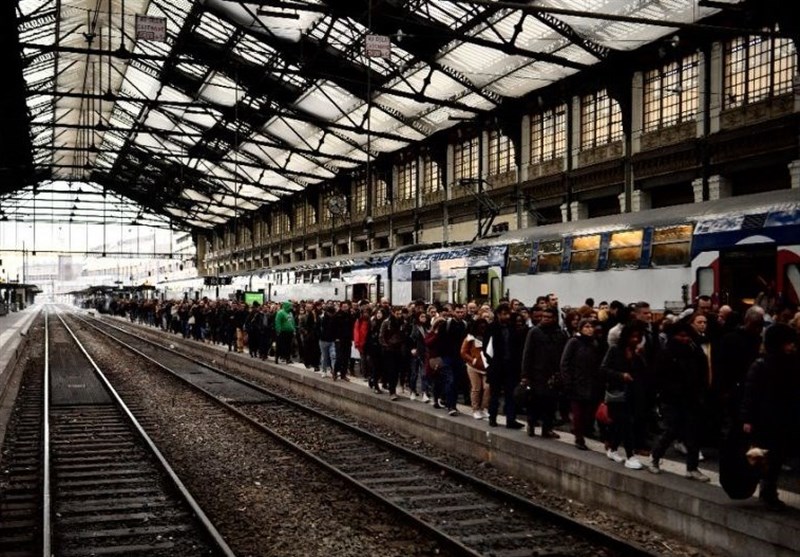 Roughly a third of flights into and out of three Paris airports -- Charles de Gaulle, Orly and Beauvais -- were cancelled, as were some flights in Montpellier, Nice and Marseille.
A quarter of teachers were striking on average across France, according to the largest SNUipp-FSU union, with up to 55 percent not heading into schools in the Seine-Saint-Denis region just north of Paris.
And the Lille campus of the prestigious Sciences Po university was shut down by barricades of trash cans to protest Macron's plans to overhaul higher education, and his immigration policies, and "to defend rail workers," a protester told AFP.
Rail unions have called for three months of rolling strikes starting April 3 to try to force the government to back down on an overhaul that would strip new hires of lifetime job security and more generous pensions.
But Macron appears ready to withstand the pressure, with surveys showing public opinion largely behind his bid to end some of the historic rights of railway workers.
March 22 was chosen deliberately to echo the start of nationwide protests in 1968 that led to France's biggest-ever strike and notorious street battles between police and students in Paris in May of that year.
Some commentators have reached into the past to draw parallels with more recent confrontations, particularly to 1995 when weeks of strikes paralyzed France and forced the government to abandon pension reforms.
For France's trade unions, it is a chance to show that they still wield power despite decades of declining membership and new laws that have clipped their ability to shut down public services.
But the first round of their battle against Macron in September and October last year -- over changes to labor law -- ended in disappointment and saw the ex-investment banker prevail.
"We are going to continue reforming France in depth... with the certitude that our country needs this transformation to make up for the ground lost over previous decades," Macron told reporters during a trip to India last week.
But for Macron, France's youngest-ever president, the biggest risk appears to be different groups who are angry at his fast-paced and wide-ranging reform efforts coming together as a united force against him.
As well as public sector workers, he has angered retirees by raising taxes on their pensions and is forcing through an unpopular speed limit reduction on major roads.
Macron's approval rating is at 37 percent, according to a survey by the Ipsos polling group published Wednesday, with 55 percent holding a negative view of his presidency -- the highest level since the start of his term last year.