France, Britain, Germany Seeking EU Partners' Backing for New Iran Sanctions: Diplomats
TEHRAN (Tasnim) – France, Britain and Germany sought on Wednesday to persuade their EU partners to back new sanctions on Iran in an attempt to preserve the 2015 nuclear deal between Tehran and world powers, diplomats said.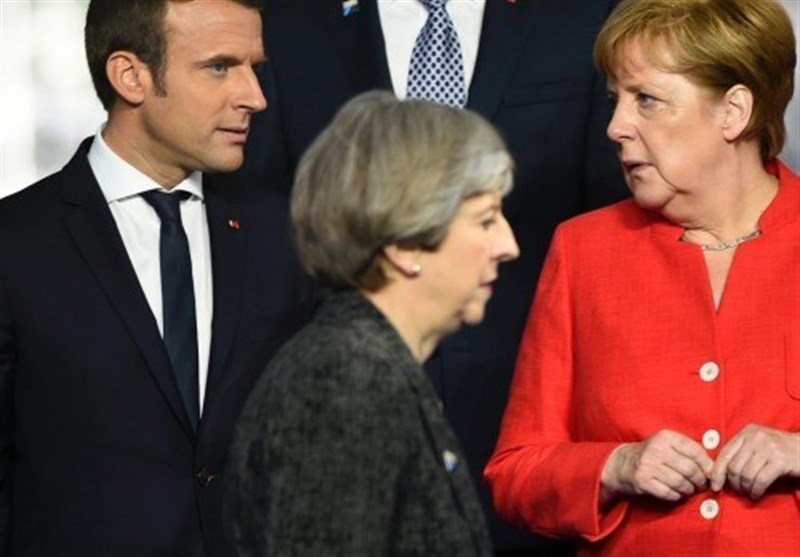 The new measures proposed by London, Paris and Berlin were discussed by the EU's 28 ambassadors, four diplomats told Reuters.
Trump has given the European signatories a May 12 deadline to "fix the terrible flaws" of the nuclear deal, which was agreed under his predecessor Barack Obama, or he will refuse to extend US sanctions relief on Iran.
The European Union rejects those criticisms. But Britain, France and Germany hope their steps could encourage Trump to issue new waivers preventing US sanctions lifted under the deal from being reimposed next month.
In Brussels at the closed-door meeting, the three pushed for agreement on possible travel bans and asset freezes before a foreign ministers' meeting next month, the diplomats said. Some EU capitals said they need more time, and discussions are expected to continue next week.
A total of 15 Iranian individuals and companies are on a list circulated to EU governments, but there was no direct discussion of names at Wednesday's meeting, one diplomat said.
Diplomats pointed to the next EU foreign ministers' meeting in Luxembourg on April 16, the last formal gathering on the EU agenda before Trump's May deadline, although governments can always convene other sessions.
"The idea is to have a final decision on Iran sanctions by or at the April Foreign Affairs Council," the diplomat said.
But another diplomat said, "It will be complicated because this will need time to convince the member states."
The sanctions would not involve measures that were lifted under the nuclear deal but would instead target individual Iranians that the EU believes are behind Iran's ballistic weapons.
Any Iranians targeted would be subject to asset freezes and bans on traveling to the EU or doing business with companies based in the bloc.
EU envoys discussed possible sanctions on the basis of last week's meeting of foreign ministers in Brussels.
At that meeting, France also urged the EU to consider new sanctions on Iran, citing publicly the "proliferation of ballistic missiles and (Tehran's) very questionable role in the near- and Middle East."
Iranian officials have time and again reiterated that none of the country's missiles have been designed to be capable of carrying nuclear warheads, because nuclear weapons have basically no place in Iran's defense doctrine.
But countries ranging from Sweden and Ireland to Iran's closest European allies Italy and Greece still need to be convinced. Austria is also wary, one diplomat said.
Iran and the Group 5+1 (Russia, China, the US, Britain, France, and Germany) reached the 159-page nuclear agreement, known as the Joint Comprehensive Plan of Action (JCPOA), in July 2015 and implemented it in January 2016.
Since the historic deal was signed in Vienna, the IAEA has repeatedly confirmed Iran's compliance with its commitments under the JCPOA, but some other parties, especially the US, have failed to live up to their undertakings.