Trump Announces US Withdrawal from Iran Nuclear Deal
TEHRAN (Tasnim) – US President Donald Trump announced Tuesday that Washington is quitting the Iran nuclear deal, pitting him against the United States' closest allies.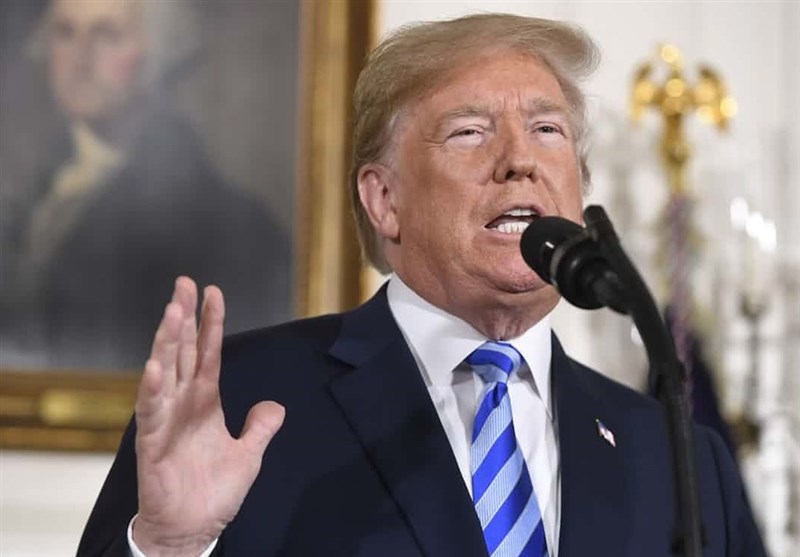 "I am announcing today that the United States will withdraw from the Iran nuclear deal," Trump said from the White House.
Repeating the baseless accusation that Iran is pursuing nuclear weapons despite the International Atomic Energy Agency (IAEA) repeated verification of Iran's peaceful nuclear activities, Trump said, "It is clear to me that we cannot prevent an Iranian nuclear bomb under the decaying and cotton structure of the current agreement."
"The Iran deal is defective at its core. If we do nothing we know exactly what will happen."
In announcing his decision, Trump will initiate new sanctions to go forward, crippling the touchstone agreement negotiated by his predecessor.
"The so-called Iran deal was supposed to protect the United States and our allies from the lunacy of an Iranian nuclear bomb, a weapon that will only endanger the survival of the Iranian regime," the President said.
"In fact, the deal allowed Iran to continue enriching uranium and over time reach the brink of a nuclear breakout."
The President claimed that the US have "definitive proof that this Iranian promise was a lie."
Trump derided the deal as an embarrassment that gave Iran dollars at the same time it sponsored terrorism.
"At the point when the US had maximum leverage, this disastrous deal gave this regime -- and it's a regime of great terror -- many billions of dollars, some of it in actually cash -- a great embarrassment to me as a citizen," Trump said.
The sanctions could take months to go into effect as the US government develops guidance for companies and banks.
But reapplying the sanctions -- which were lifted in exchange for Iran's commitment to curb its nuclear program -- would cripple the 2015 accord that Trump has deemed "the single worst deal I've ever seen drawn by anybody."