France Alarmed after Trump 'Practically Hugged' Kim: Minister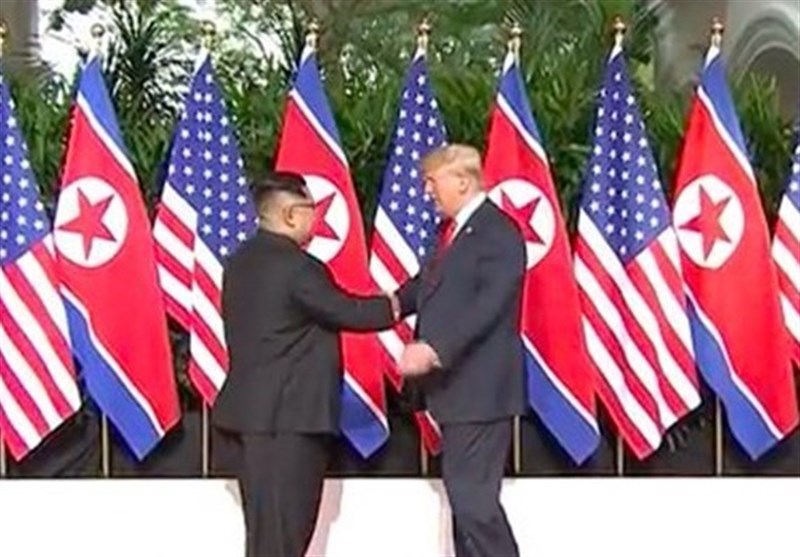 TEHRAN (Tasnim) - French Foreign Minister Jean-Yves le Drian criticized Donald Trump's "destabilizing" foreign policy on Wednesday after the US leader fell out with historic US allies then "practically hugged" North Korea's dictator in a matter of days.
Le Drian said Tuesday's historic summit between Trump and North Korea's Kim Jong Un was "an undoubted step forward", but he expressed concern about the US president's diplomatic manoeuvres.
"In the space of just a day you see President Trump attacking Mr. Trudeau who is a historically, and you see President Trump breaking with his collective allies after the G7 meeting in Quebec, and the next day practically hugged a dictator born into a Communist dictatorship which just a few days ago he said he was completely opposed to," he said, AFP reported.
"We are in a destabilizing situation," Le Drian told CNews television.
"President Trump has decided to progressively dismantle the tools of multilateralism created after the last war. It is a period of uncertainty and risk... America is shutting itself away in its fortress of power."
Trump's critics have seized on his warm embrace of Kim, days after a spectacular bust-up with G7 allies at a summit in Canada, as the latest sign of his rapport with autocrats.
Trump clashed badly with leaders of the G7's Western democracies over tariffs and accused Canadian Prime Minister Justin Trudeau of being "dishonest and weak" at a summit that ended in farce last weekend.
Like many officials, Le Drian raised questions over how Kim's promise to help rid the Korean Peninsula of nuclear weapons could be achieved.
"There have already been in the past gestures towards denuclearization by the father of Kim Jong Un that came to nothing," Le Drian said.
"So today it's good news, let's take it as such, but let's make sure this principle of denuclearization which was flaunted at this summit is really irreversible and verifiable."