Ayatollah Khamenei: Iran's Economy Should Not Be Tied to JCPOA
TEHRAN (Tasnim) – Leader of the Islamic Revolution Ayatollah Seyed Ali Khamenei reiterated the need for Europe to guarantee Iran's benefits under the Joint Comprehensive Plan of Action (JCPOA), but underscored that the country's economy should not hinge on the fate of the nuclear deal.
In a meeting with President Hassan Rouhani and his cabinet members on Sunday, Ayatollah Khamenei said the European parties to the nuclear deal must give the necessary guarantees that Iran will enjoy the benefits of the JCPOA.
The Leader underlined, however, that "the country's economy should not be tied to that issue (JCPOA) and held down by it."
Emphasizing the necessity for diplomacy and enhanced foreign relations, Ayatollah Khamenei said, "Except for a few cases like the US, the country's relations with the East and the West must be further strengthened and diplomacy's operational and purposeful mobility should increase."
Ayatollah Khamenei further hailed Rouhani's stances in a recent trip to Europe, saying, "Expressing might before the eyes of foreigners, particularly Americans, is a necessity and this should be done in a timely, explicit and decisive manner."
As regards the plans to resolve the economic woes, the Leader urged a "road map to stable economy", saying such a road map will help people and economic activists carry out their plans and assist the administration with a feeling of calm and stability.
Ayatollah Khamenei also called on the administration to bolster the private sector and take strong punitive action against wrongdoers, saying offenders in any position must be brought to justice.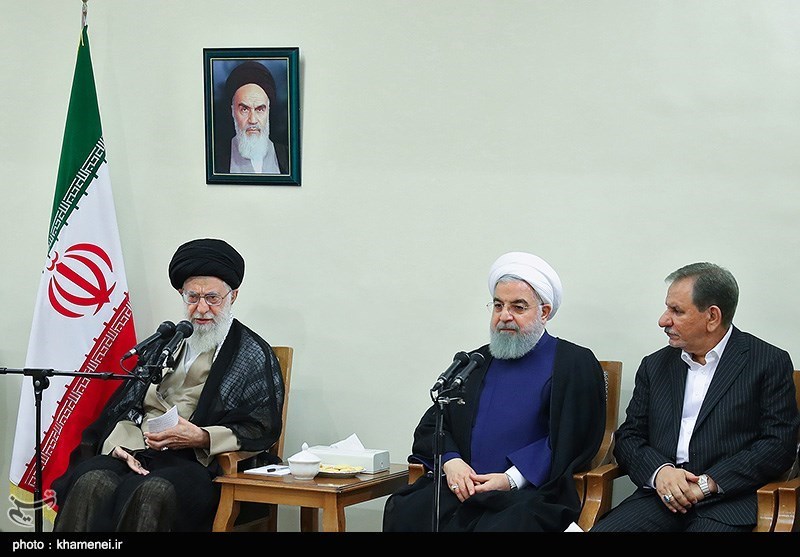 Highlighting the need for strict administrative control on financial transactions to counter smuggling and money laundering, Ayatollah Khamenei urged a "genuine fight against corruption" and serious resolve to implement the Resistance Economy grand plan.
Earlier this month, Ayatollah Khamenei sent a letter to the president, expressing deep concern over media reports about the administration's move to sell large amounts of gold coins and foreign currencies to certain individuals and urging Rouhani to enlighten the public opinion about the ambiguities.
It came after the Iranian police arrested a man who was hoarding two tons of gold coins in order to manipulate the market.
Recently, the Iranian rial has plunged to a record low against the US dollar on the unofficial market.
The collapse of the national currency has provoked a public outcry over the quick rise of prices of imported consumer goods.