300,000 Left Homeless as Death Toll from Flooding in India Reaches 324 (+Photos, Video)
TEHRAN (Tasnim) - Terrifying moment caught on camera showing a house sliding down a hill during the worst flooding in century in India which has killed at least 324 people and left 300,000 homeless.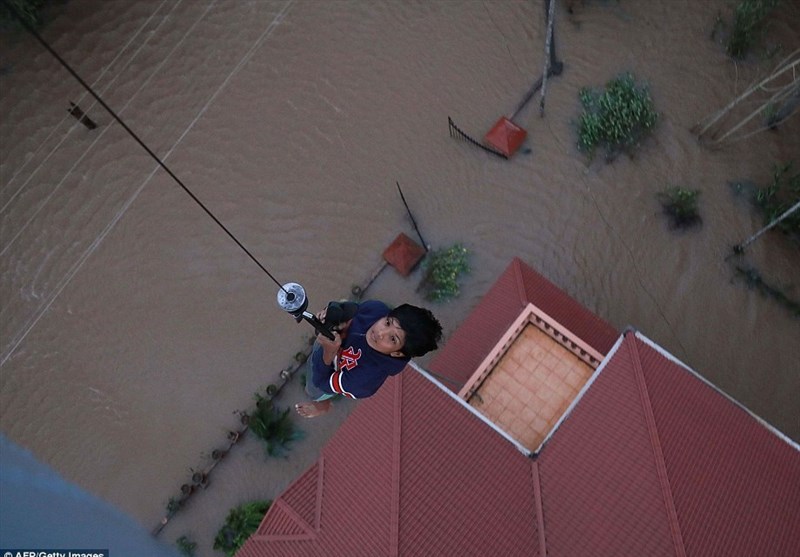 All 40 residents inside the building had to be evacuated from the building in Mercara in Karnataka but no lives were lost.
As the land in the area began to slip, officials evacuated all the residents out of the house to prevent another major disaster.
More than 100 homes have collapsed in the last three days in the Coorg district, where Mercara is situated, Daily Mail reported.
More than 300,000 people have taken shelter in over 1,500 state-run relief camps, officials said. But authorities said they were being inundated with calls for assistance, local media reported.
The death toll from the worst flooding to hit India's Kerala state in a century has jumped to 357, authorities said Sunday, with losses to infrastructure pegged at some $3 billion.
The idyllic tourist hotspot has been badgered by torrential monsoon rains since the end of May, triggering landslides and flash floods that have swept away entire villages.
Roads and 134 bridges have suffered damage, isolating remote areas in the hilly districts of the state which are worst affected.
Panic-stricken people have been making appeals on social media for help, saying they cannot get through to rescue services.
"According to preliminary estimates Kerala's losses due to the floods is 19,512 crore rupees ($2.9 bln). Actual losses can be estimated only after the water recedes," the statement said.
The state chief minister has requested more funding as well as 20 more helicopters and 600 motorised boats in order to step up the rescue efforts.
Indian Prime Minister Narendra Modi conducted a brief air inspection tour of the state Saturday and announced an immediate grant of $75 million.