US Unable to Defeat Iranian Nation: President Rouhani
January, 14, 2019 - 14:57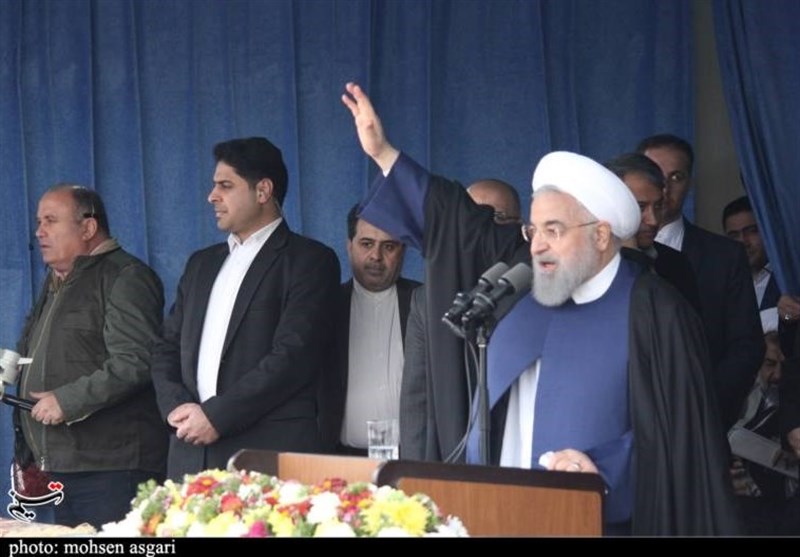 TEHRAN (Tasnim) – Iranian President Hassan Rouhani highlighted the ineffectiveness of the US government's economic sanctions against the Islamic Republic and said the Americans are not able to bring the country into its "knees".
"We do not have any fear of the enemy's conspiracy," President Rouhani said at a gathering of Iranian people in the city of Gonbad-e Kavus located in the northern province of Golestan.
"We will weather the problems and will not allow these problems stay ahead of us," he said, adding, "Neither the United States, nor the Zionists, nor their stooges, are able to bring the great nation (of Iran) and its brave leadership to their knees."
"You are seeking to deprive the Iranian people of food, medicine and equipment," Rouhani said, referring to the American sanctions.
"However, we (have freindly and brotherly ties) with all of our friends in the world and most of the neighbors around the country, ... and are ready to solve the problems in this regard," he stated.
The remarks came as tensions between Iran and the US have escalated since US President Donald Trump walked away from the 2015 nuclear deal between Iran and world powers in May and re-imposed sanctions on the Islamic Republic.
Trump on August 6 signed an executive order re-imposing many sanctions on Iran, three months after pulling out of the Iran nuclear deal known as the Joint Comprehensive Plan of Action (JCPOA).
He said the US policy is to levy "maximum economic pressure" on the country.
The second batch of US sanctions against the Islamic Republic took effect on November 4.