Japan Strengthening Military Due to Possible Regional Tensions: Japanese Admiral
January, 14, 2019 - 18:11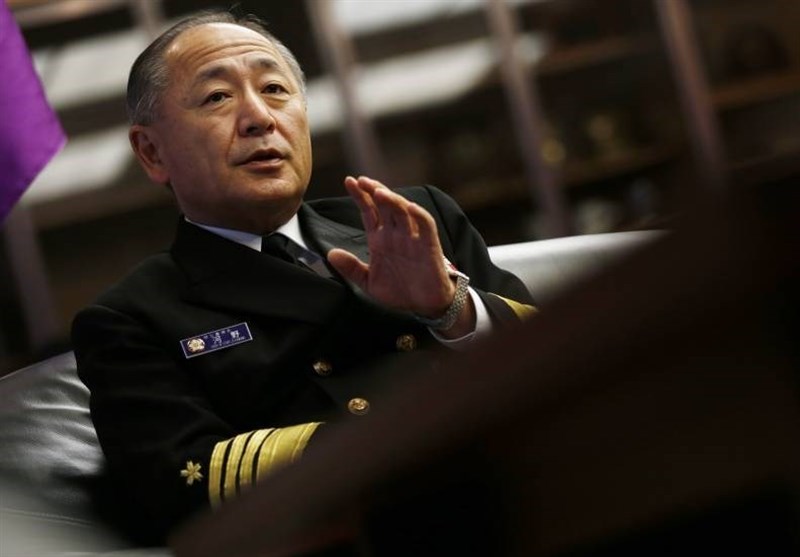 TEHRAN (Tasnim) - In an interview with the Tasnim News Agency in New Delhi on Wednesday, Chief of Staff of Japanese Self-Defense Forces, Katsutoshi Kawano commented about tensions between China and the US and its impact on Japan's internal security.
Asked about the possible tensions between China and the United States in 2019 and its possible impacts on Japan, Kawano said, "Firstly we are taking diplomatic measures to decrease the tension, but at the same time we understand that the situation can endanger our own internal security and that is why we decided to strengthen our military strength also."
Answering to a question about Japan's position regarding the US and North Korea reaching dead end in resolving their disputes, the Japanese admiral said, "Well, we are basically looking at resolving the problem in cooperation with the US within the bilateral framework, so as far as the bilateral relations and the talks between the US and North Korea goes, currently we are just observing and watching them as how it's going on."
Asked about Japan's view about the possible tension between the US and Iran in the Persian Gulf especially the strait of Hurmoz, the Japanese Chief of Staff said, "Well, especially with regards to the disputes and problems in the Persian Gulf, this is part of our oil line and hence it is a matter of great interest and concern for us and we are looking forward to a peaceful resolution to this problem."
Answering to a question about whether Japan has been in contact with the US about the situation in the Persian Gulf, the highest-ranking officer of the Japan Self-Defense Forces said, "Again, I would not know about it, because it is more of a political level. If any of these talks are happening they are not part of my domain."
Asked for his opinion about the possible consequences of further tension in the Persian Gulf region and its importance to Japan, the Admiral said, "I think what you're putting forward to me is a hypothesis and I would like to refrain from answering questions based on hypothesis."
When asked about further tensions, conflicts and challenges in the Persian Gulf region and their implications to Japan, Kawano said, "I can say that especially with regard to Persian Gulf, if there is a problem that occurs over there it can be a big problem for Japan."