Muallem Asks Iran to Stand by Syria
January, 29, 2019 - 18:10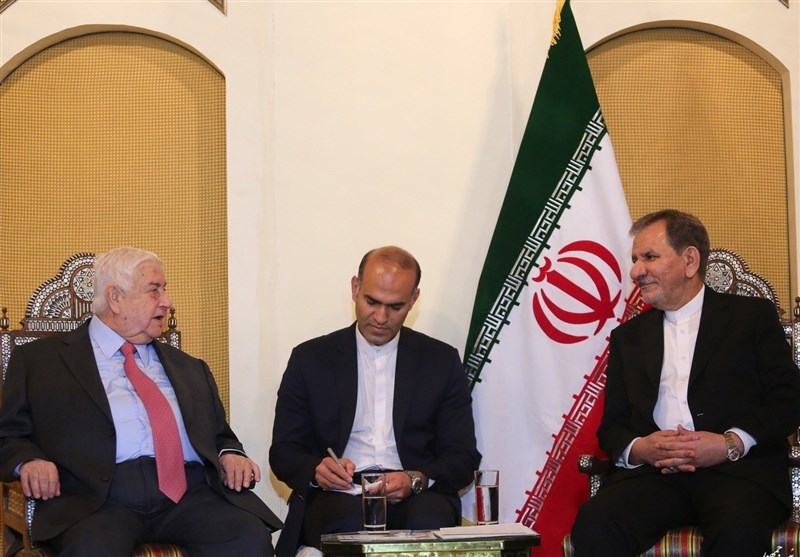 TEHRAN (Tasnim) - Foreign Minister of Syria Walid al-Muallem called on Iran not to leave his country until an eventual victory against terrorism.
In a meeting with Iranian First Vice-President Eshaq Jahangiri in Damascus on Tuesday, Muallem said Damascus wants Iran to stand by the Syrian government and nation until the ultimate victory against the enemies and during the reconstruction of the Arab country.
"Iran and Syria have gained a great achievement by defeating terrorists, and also today, they should promote economic cooperation under tough sanctions to go through this stage," the Syrian minister added.
He further noted that Iran and Syria are in a united front of battle against terrorism and global arrogance, which he said is spearheaded by the US and the Zionist regime of Israel.
For his part, Jahangiri praised Syria's victories against the enemies, noting that the US seeks to mount economic pressure and impose tougher sanctions in the wake of failure of its policies.
He said the high-ranking delegation he is heading in the visit to Syria illustrates that Iran is determined to help Syria in the reconstruction phase.
Jahangiri finally called for closer interaction between the Iranian and Syrian state-run and private sectors as well as business people in order to accelerate the implementation of plans to reconstruct Syria's infrastructures.
Heading a diplomatic and business delegation, the Iranian vice president has travelled to Syria to coordinate plans for cooperation with the Arab country, which is recovering from years of war and foreign-backed militancy.
In September 2017, Iranian Foreign Minister Mohammad Javad Zarif said on the sidelines of the UN General Assembly in New York that Iran would assist the Syrian nation in reconstructing their country after the war, in the same way that it contributed to the delivery of humanitarian aid to the Arab state amid the crisis.