S. Korea Eager to Maintain Ties with Iran despite Sanctions
February, 15, 2019 - 17:10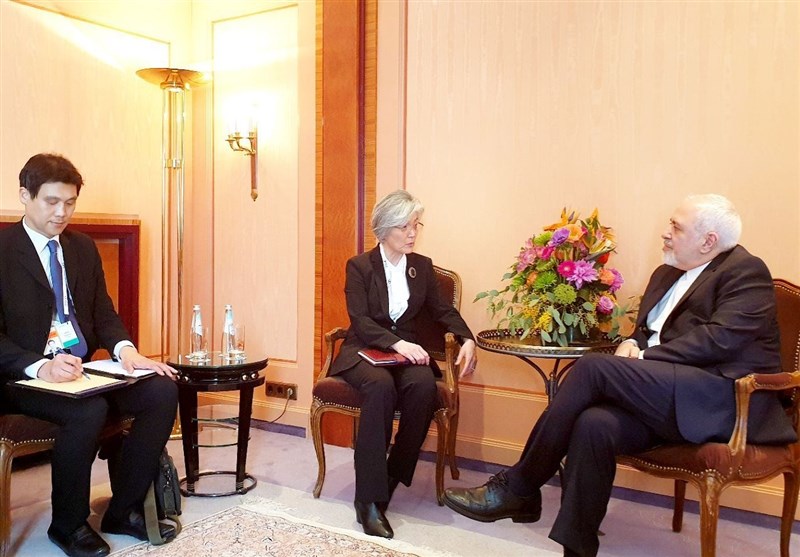 TEHRAN (Tasnim) – Foreign minister of South Korea voiced her country's willingness to sustain the age-old relations with Iran regardless of the Western sanctions against Tehran.
South Korea's Foreign Minister Kang Kyung-wha and her Iranian counterpart Mohammad Javad met on the sidelines of the 55th Munich Security Conference in Germany on Friday.
In the gathering, the top Korean diplomat expresses Seoul's willingness to continue decades of close relations with Tehran despite the sanctions and pressures imposed on Iran.
She also sympathized with the Iranian nation over a recent terrorist attack that killed 27 forces of the Islamic Revolution Guards Corps (IRGC) in southeast Iran.
Zarif and Kang also discussed the economic and trade ties between Iran and South Korea, the major regional and international developments, such as the upheavals in the Korean Peninsula, and the issues surrounding the Joint Comprehensive Plan of Action (JCPOA).
Foreign Minister Zarif has joined more than 100 officials as well as political, security, and international figures including presidents, foreign and defense ministers, and heads of international organizations in Munich for the conference.
Since its foundation five decades ago, the MSC has become a leading international platform for dialogue on foreign and security policy.
In addition to its annual flagship conference, the MSC regularly convenes high-profile events on particular topics and regions and publishes the Munich Security Report.