Hundreds of Northern Alberta Residents Evacuated Due to Wildfire (+Video)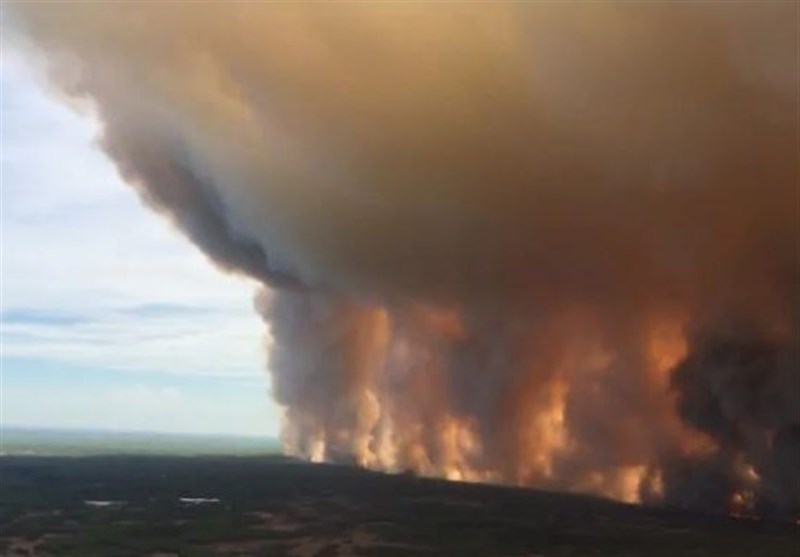 TEHRAN (Tasnim) - An evacuation order was issued for High Level on Monday afternoon because of a wildfire that, by Tuesday afternoon, had grown to be about 80,000 hectares.
Wildfire evacuees from northwestern Alberta continue to file in to reception centers set up throughout the province as an out-of-control wildfire continues to burn about five kilometres south of High Level, Global News reported.
Parts of Mackenzie County south of High Level, along with Bushe River and Meader River were also ordered to evacuate on Monday afternoon.
Reception centers have been set up in several Alberta communities, including Slave Lake, High Prairie, Grande Prairie, Peace River and La Crete. Slave Lake takes in nearly 700 evacuees.
According to CBC, the fire near the town of High Level is ranked as a Level 6, the top of the wildfire intensity scale. Increased fire danger is common during the spring because of the abundance of dry, flammable materials in the period between the snow melt and the green-up of the landscape.
"Wildfire season is a long and tough battle every year, and we need to prepare for the long haul this summer," Kenney said.
The High Level wildfire is being fought from the air, because it's not safe to have people on the ground attacking the fire, Bruce Mayer, assistant deputy minister for Alberta Agriculture and Forestry, said at Tuesday's news conference.
"We will not put any people in front of the head; it's simply too dangerous," Mayer said.
There have been 430 wildfires in Alberta since March 1, of which 30 are still active and five are classed as out of control.
There are 89 firefighters, 24 helicopters and three air tankers involved in fighting the blaze, he said. Alberta crews will get logistical and personnel support from Ontario, Nova Scotia and British Columbia. Those crews are expected to arrive on Wednesday.
Fire officials say the wind, forecast to be out of the southeast for the next several days, is working in the town's favor by pushing the fire away from homes and other buildings.
"The fire is actually burning on the southwest side of High Level, headed northwest," said Mayer. "The forecast for the next few days is the strong gusty winds will be from the southeast to east and northeast, which are all favorable from a High Level perspective."
Nearly 5,000 people have been evacuated from their homes in northern Alberta, Canada to escape a monstrous blaze that has reached 200,000 acres, the province's government said Tuesday.