Iran's President: Deal of Century Doomed to Collapse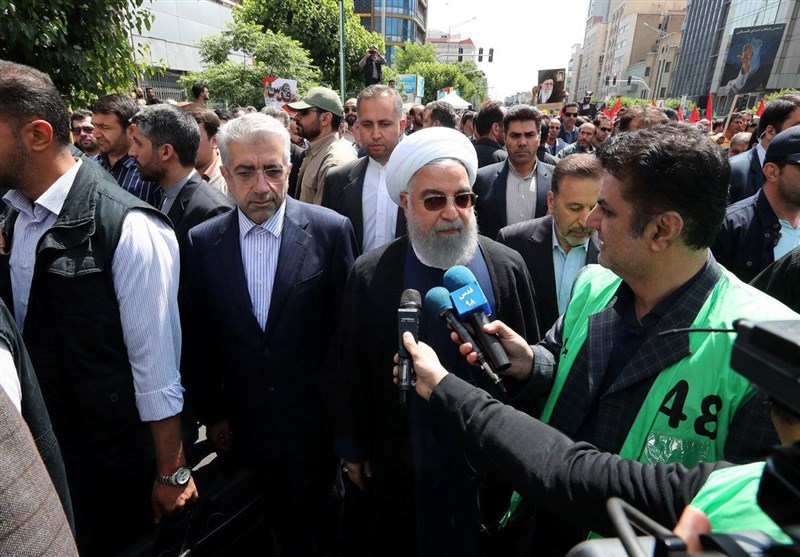 TEHRAN (Tasnim) – Palestinians will definitely emerge victorious in the confrontation with the Zionist aggressors, President of Iran Hassan Rouhani underscored, stressing that the US-drafted deal of the century will end up as the 'bankruptcy of the century'.
"The issue of deal of century will undoubtedly turn into the bankruptcy of the century and will certainly not yield results," President Rouhani told reporters as he was attending the Quds Day rallies in Tehran.
Highlighting the significance of the International Quds Day in the history of the Islamic Revolution, he added, "The Quds Day is the day of confrontation between all Muslims and the world aggressors, and the message of Quds (Day) is that Palestine will live forever and al-Quds belongs to Muslims."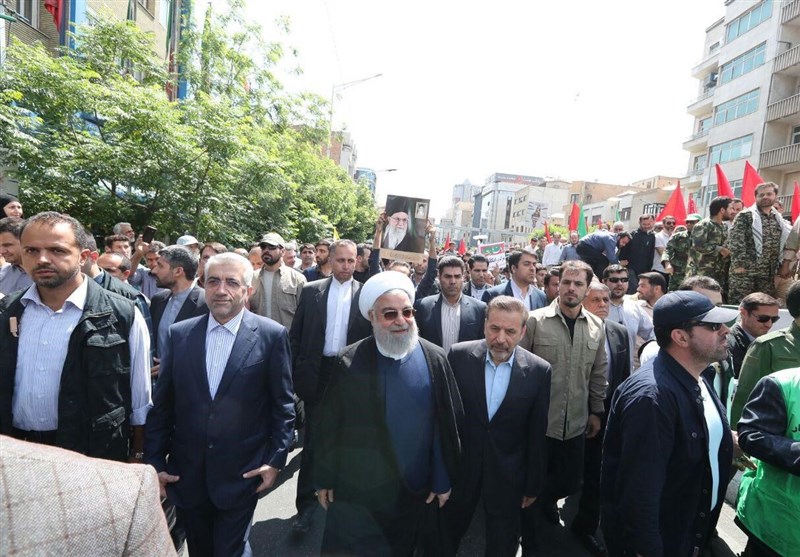 The plots that the global arrogance and aggressors have hatched against Palestine and al-Quds will get nowhere, Rouhani underlined, saying, "We have no doubts that ultimate victory will be for justice and for Palestine, and that the Palestinian territory will become a safe haven for Muslims, Christians and Jews."
He also noted that the US move to recognize the city of al-Quds as the capital of the Zionist regime did not win support from the international community, adding, "They (Americans) also designated the Golan (Heights) as part of the Zionist regime, but no country or international institution supported it."
Iranian people took part in countrywide demonstrations on Friday to mark the International Quds Day, reaffirm support for Palestine, and condemn the Israeli crimes against Palestinians.
In capital Tehran, the rallies are organized in ten different routes ending at the University of Tehran, where worshippers will attend the Friday prayers.
This year's rallies are held under the slogan "En Route for Quds" in the Arab countries.
Each year, the International Quds Day is celebrated on the last Friday of the Islamic holy month of Ramadan.
The event's raison d'être is renewing support for the Palestinians and denunciation of Israel.
In comments on Wednesday, Leader of the Islamic Revolution Ayatollah Seyed Ali Khamenei said the so-called peace plan devised by Washington and its cronies for the Middle East would fail and "will be never realized".
The Leader also described Quds Day rallies as particularly important this year because of acts of treasons by certain states in the region and said, "The Quds Day rally which represents supporting Palestine by public turnout has always been important. It is more important this year because of the treasonous acts by US cohorts in the region who try to make the 'Deal of the Century' accepted. Of course, it will not be accepted and it will never be realized; the United States and its cohorts will certainly face failure on this matter."