Iran's Rouhani Urges Europe to Resist US, Fulfil JCPOA Commitments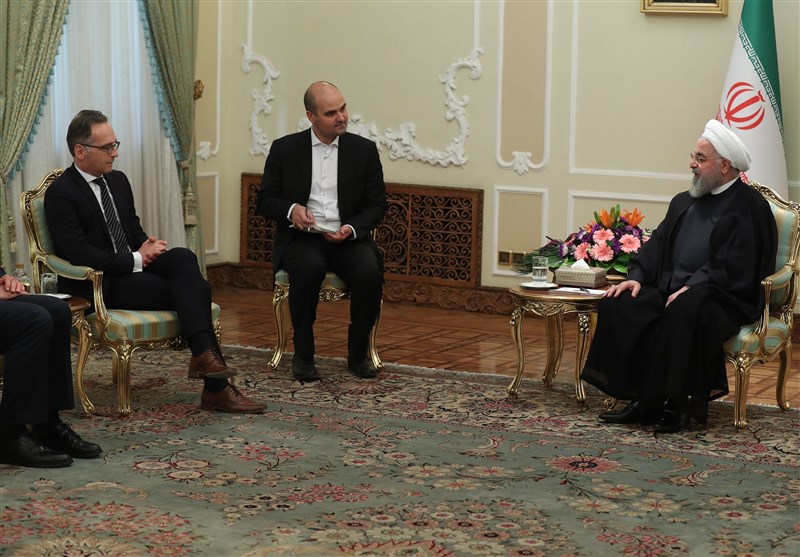 TEHRAN (Tasnim) – Iranian President Hassan Rouhani called on Europe to resist the United States' economic terrorism against the Iranian nation and live up to its obligations as per the 2015 nuclear deal, known as the Joint Comprehensive Plan of Action (JCPOA).
"We expect Europe to stand up to and resist America's economic terrorism against the Iranian nation and fulfill its obligations in accordance with the JCPOA," Rouhani said in a meeting with German Foreign Minister Heiko Maas in Tehran on Monday.
He added that following the US withdrawal from the deal, Iran could have done the same on the strength of Article 36 of the JCPOA, but rather decided to remain patient and give other signatories a chance.
Maas had earlier in the day met with his Iranian counterpart, Mohammad Javad Zarif.
He arrived in Tehran on Sunday night. His visit is part of a concerted European effort to preserve the 2015 nuclear deal between Tehran and world powers following the US withdrawal from the accord.
The US has ratcheted up pressure on Iran since last year after withdrawing from JCPOA.
Since then, the administration of US President Donald Trump is trying to reduce Iran's oil exports to "zero," and has sent an aircraft carrier strike group, a bomber squad, an amphibious assault ship, and a Patriot missile battery to the Middle East to try to stack up pressure on Tehran.
Iranian officials, however, have dismissed such moves as psychological warfare, saying the country has its own ways of circumventing the American bans and selling crude oil.
On the first anniversary of the US withdrawal from the nuclear deal, Iran announced that it would suspend the implementation of some of its commitments under the deal, announcing that it would stop exporting excess uranium and heavy water, setting a 60-day deadline for the five remaining parties to the deal to take practical measures towards ensuring its interests in the face of the American sanctions.