Car Flies Off Overpass, Kills Pedestrian in Freak Accident in India (+Video)
November, 24, 2019 - 16:59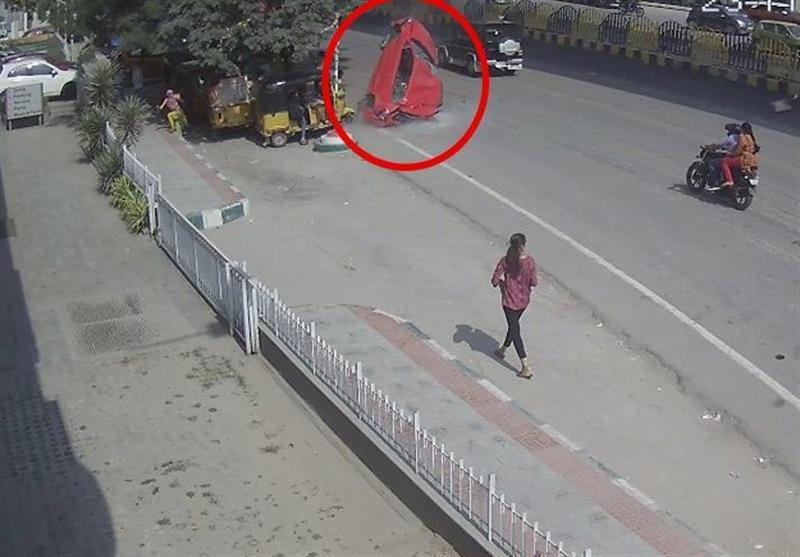 TEHRAN (Tasnim) – A speeding vehicle flew right off an overpass and smashed down onto the road below, killing one pedestrian and injuring several others in horrific car crash in India's Hyderabad.
CCTV footages of the horrific accident in Hyderabad's Gachibowli area shows a car flying off the newly-opened Biodiversity overpass and slamming into the road beneath the bridge around 1 pm on Saturday. A woman was killed in the accident and six others were injured, The NewsMinute reported.
In videos of the incident, pedestrians and cars can be seen calmly traversing the road when the car, a red Volkswagen GTI, comes hurtling off the flyover overhead. In one video, some notice the vehicle in the air and try to run for cover. The shadow of the car can be seen crossing over the road momentarily before it smashes into the ground.
The flyover has been temporarily shut down as a result of the accident.
According to police, the driver, identified as Milan, survived the crash due to airbags that were deployed. The victim has been identified as Satyaveni, who was walking on the road with her daughter at the time of the accident. Her daughter, however, escaped with minor injuries.
The 990-meter long flyover is a one-way and begins at Divya Sree Orion SEZ and ends after the Biodiversity Junction. It is part of the state government's Strategic Road Development Program (SRDP).
Many have taken to social media to complain about the design of the flyover, which includes a steep ascent, sharp curves and few signs.