British PM Refuses to Look at Picture of Sick Boy on Hospital Floor (+Video)
TEHRAN (Tasnim) – British Prime Minister Boris Johnson faced questions after he bizarrely took a reporter's phone and put it in his pocket after refusing to look at a photograph of a sick four-year-old boy who was forced to lie on a hospital floor.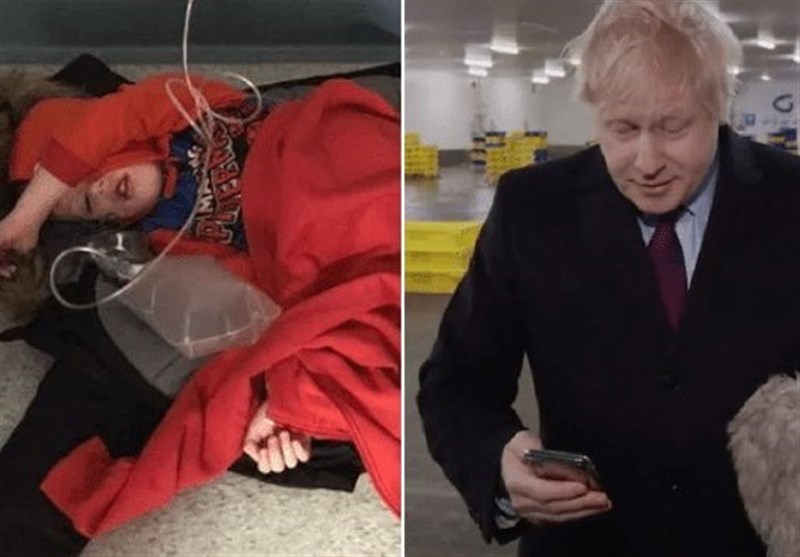 A Yorkshire TV questioned Johnson about a picture of Jack Williment-Barr, a boy with suspected pneumonia who slept on a pile of coats on the floor of a Leeds hospital for lack of beds. The journalist Joe Pike later tweeted: "Tried to show @BorisJohnson the picture of Jack Williment-Barr … The PM grabbed my phone and put it in his pocket".
Questioned about the incident during a visit to Grimsby, Johnson took ITV reporter Joe Pike's phone and put it in his pocket rather than look at the picture, the Irish Times Reported.
The photograph, first published by the Daily Mirror, showed Jack Williment-Barr, who was thought to have pneumonia, lying on a pile of coats on the floor at Leeds General Hospital with an oxygen mask at his side because all beds were occupied.
When Pike challenged the prime minister about pocketing his phone, Johnson took it out and looked at the photograph.
"It's a terrible, terrible photo, and I apologize, obviously, to the family and all of those who have terrible experiences in the NHS. But what we are doing is supporting the NHS and on the whole, I think patients in the NHS have a much, much better experience than this poor kid has had," he said.
Labour criticized the prime minister for his behavior, saying it was "clear he could not care less".
Jon Ashworth, shadow health secretary, said, "Refusing to even look at an image of a child suffering because of Conservative cuts to the NHS is a new low for Boris Johnson. It's clear he could not care less. Don't give this disgrace of a man five more years of driving our NHS into the ground. Sick toddlers like Jack deserve so much better."
A user wrote on social media, "This shocking lack of empathy shows why Johnson is not fit be prime minister."