US, Allies Failed to Sabotage Iran-Russia-China Naval Exercise, Commander Says
January, 02, 2020 - 11:37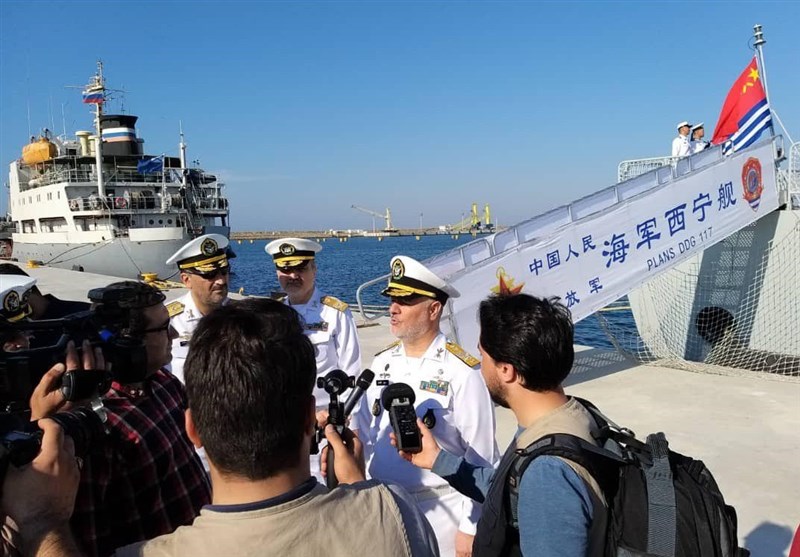 TEHRAN (Tasnim) – Commander of the Iranian Navy Rear Admiral Hossein Khanzadi said the US and some of its allies tried to sabotage the recent joint naval exercise of the Islamic Republic, Russia and China but their attempts were foiled.
Speaking to the Islamic Republic of Iran Broadcasting about the recent naval drills, Rear Admiral Khanzadi said that during the war game, the only thing trans-regional forces, especially the Americans, could do was stay away from the exercise area and monitor it by flying their spy drones.
"During the combined naval exercise of Iran, Russia, and China, the Americans and their allies held an emergency meeting aimed at disrupting the process of the joint war game with our two allies," he said.
However, the Iranian Navy commander added, due to a military deception operation, their plots were foiled.
Rear Admiral Khanzadi went on to say that in the next Iranian year (March 2020 – March 2021), the country plans to stage another naval exercise with Russia and China.
Iranian, Russian, and Chinese naval units on Sunday wrapped up the joint exercise, dubbed Marine Security Belt, in the Indian Ocean and the Gulf of Oman after three days.
On the final day of the joint drill, the naval forces of the three countries exercised tactics to fight piracy and extinguish vessel fires in the international waters south of Iran.
The war game came amid US efforts to woo countries into a maritime coalition for patrols in the Persian Gulf, which have received a lukewarm welcome from its allies.