Iran's Larijani Lauds IRGC Contributions to Fight against COVID-19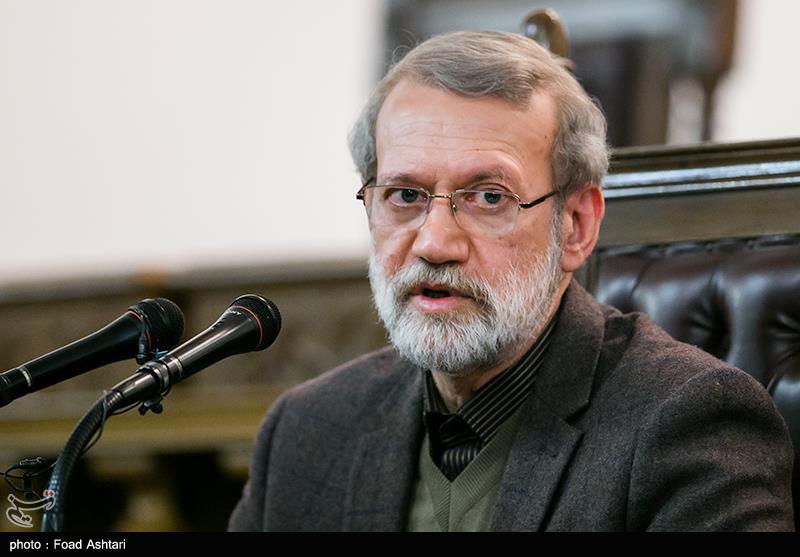 TEHRAN (Tasnim) – Iranian Parliament Speaker Ali Larijani on Thursday praised the Islamic Revolution Guards Corps (IRGC) forces for their dedication and diligent efforts to help protect people against the coronavirus pandemic.
In a videoconference address to participants in a biological defense exercise launched by the IRGC Ground Force, Larijani referred to the high transmissibility of COVID-19 and said that fighting the virus, therefore, needed a dedication and diligence.
"Our dear people are witnessing that the IRGC that was established at the order of (late founder of the Islamic Republic) Imam Khomeini after the victory of the Islamic Revolution, has stood by the people in the hardest times and acted diligently. Today, too, it has mobilized all of its capacities to help the people."
He added that since the early days of the fight against the disease, the commanders have put all capacities of the IRGC at the service of protecting people from the virus.
Larijani also hailed the endeavors by other organizations and institutions, including the Health Ministry, over the past few weeks, saying Iran's response to COVID-19 outbreak has been much better than many other countries claiming to have advanced facilities and equipment.
The IRGC Ground Force on Wednesday started the biological defense exercise across Iran with the participation of modern warfare units.
The large-scale war game will last for three days and covers 3,000 locations across Iran, including 100 spots in Tehran.
Attended by the modern warfare units of the IRGC Ground Force and Basij, the exercise includes massive disinfection operations all over Iran.
The drill is being held in coordination with the Coronavirus Battle National Headquarters and in compliance with the policies of the General Staff of the Iranian Armed Forces.
IRGC Ground Force Commander Brigadier General Mohammad Pakpour announced on Tuesday that all medical centers of the IRGC Ground Force, including field hospitals, are used at full capacity in the exercise.
A total of 100 units of the IRGC Ground Force, under command of 10 bases, are carrying out the disinfection operations.
The IRGC has formed the Coronavirus Fight Base to coordinate efforts in the battle with COVID-19 and arrange cooperation with the Health Ministry.
The IRGC and Basij have also supplied the necessary medical equipment in the efforts to contain the virus.
Earlier this month, Leader of the Islamic Revolution Ayatollah Seyed Ali Khamenei cited clues to a possible "biological attack" on Iran in the outbreak of the novel coronavirus, ordering the Armed Forces to set up a "health and medical base" to organize the efforts to prevent the spread of the disease.
The Leader assigned the Armed Forces to work on the necessary methods to prevent a further spread of coronavirus, in addition to the other activities such as treatment of patients and establishment of medical centers like field hospitals and convalescent homes.