Hafezieh: The Tomb of Famous Iranian Poet in Shiraz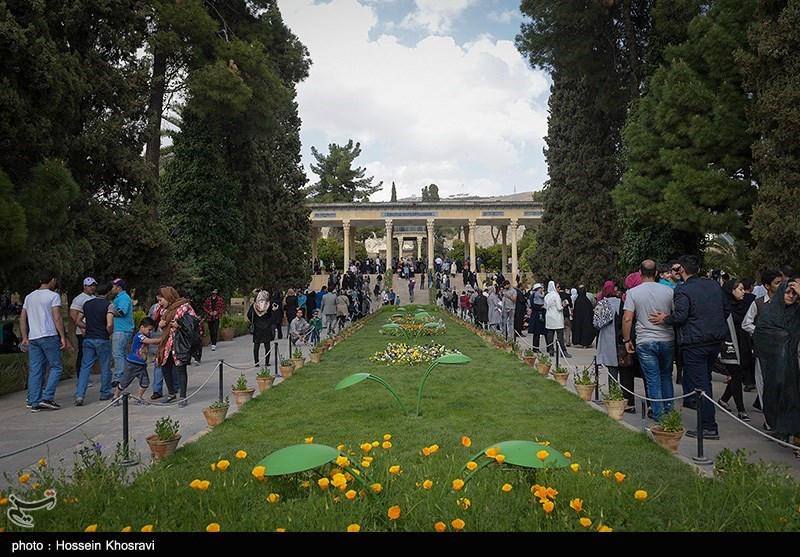 TEHRAN (Tasnim) - The Tomb of Hafez is in a peaceful, garden setting that drips with an ambience of poetry and romance.
The 14th-century writer is considered the Shakespeare of Iran, one of the greatest Persian poets of all time, and a source of national pride.
Hafeziyeh is the name of a shrine complex in north of Shiraz, in the south of Darvazeh Quran. Because it contains the shrine of Hafez-e-Shirazi, this complex is known by this name. Hafeziyeh has about 2 hectares area and is formed from two northern and southern courtyard separated by a hall.
There is no better place to understand Hafez's place in the nation's psyche than at his tomb and the memorial garden within which it is set. Iranians have a saying that every home must have two things: first the Quran, then a collection of the works of Hafez.
This 14th-century Iranian folk hero is loved and revered and almost every Iranian can quote his work, bending it to whichever social or political persuasion they subscribe.
Hafezie (Tomb of Hafez), one of the most popular attractions of Shiraz, is situated in a garden on the banks of Rukn-Abad River. The original structure, built in 1773 A.D during the reign of Karim Khan Zand, consisted of four stone columns at the centre, the north and south sides of which were open .
On each of the other two sides a room had been built. The actual tomb of Hafez was outside and behind this building in the middle of the garden, and later on, an iron railing was fixed round the tomb.
In 1930's, by direction of the Ministry of Education, the Mausoleum of Hafez acquired its present form. The stone edging of the tanks of the Karim Khan buildings, which had been removed when the Zand Avenue in Shiraz was extended, were transferred to the compound of the Hafeziyeh, and placed in position round pools of water.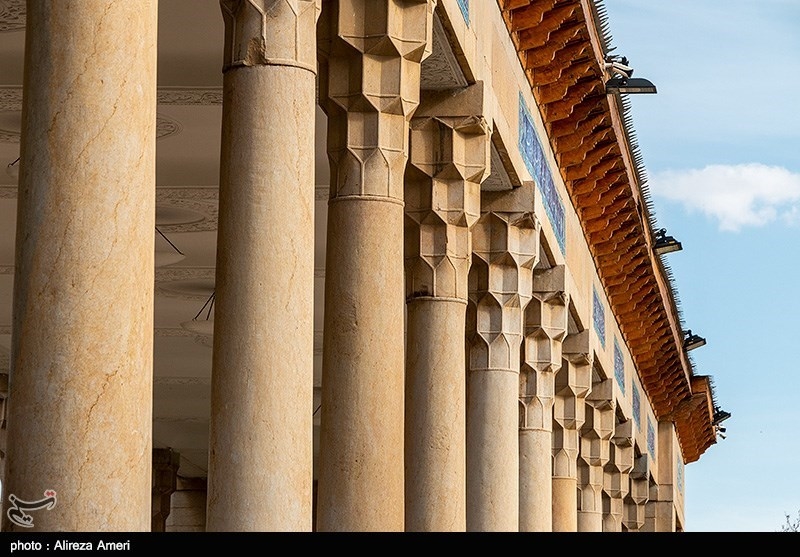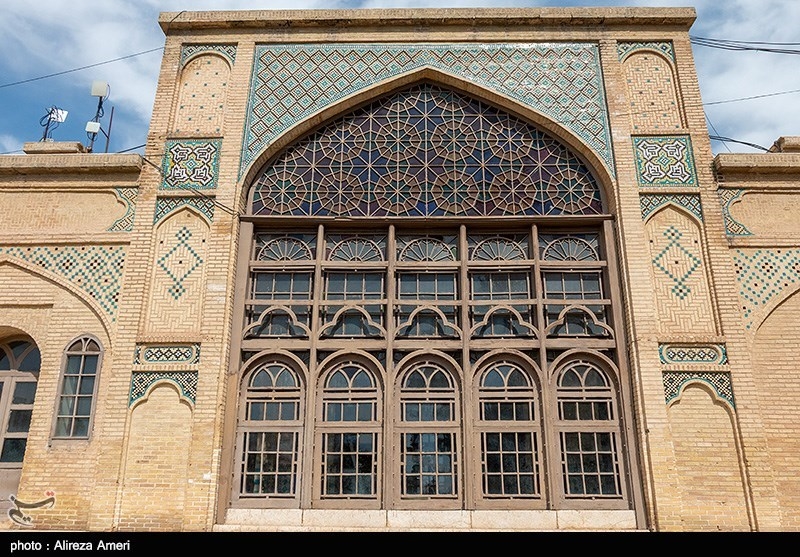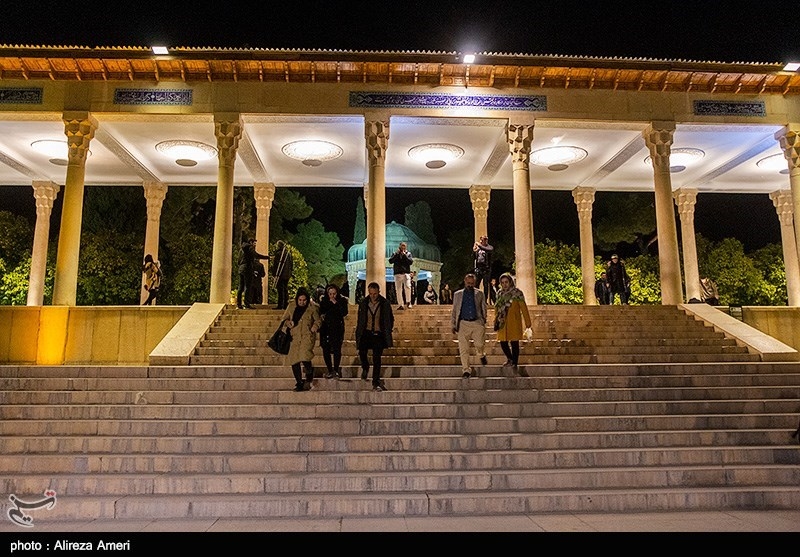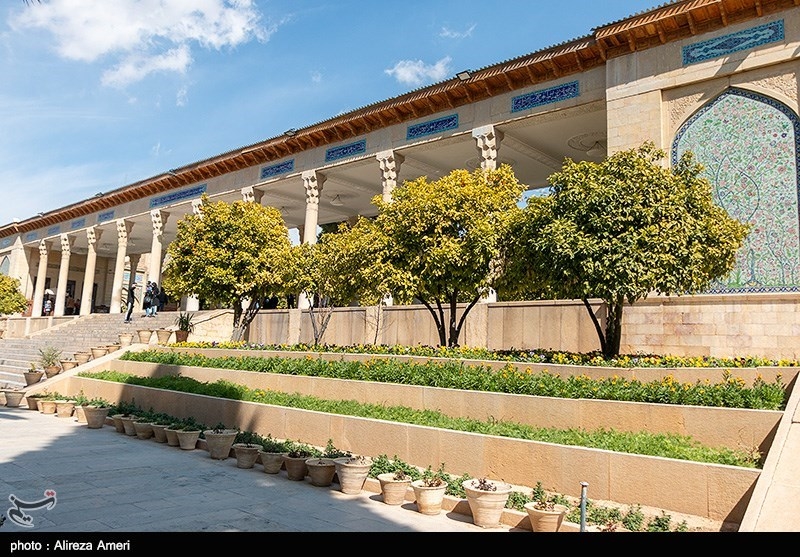 The four original columns in the centre were retained, and sixteen other stone columns of one piece and of similar shape were prepared, and the present colonnade of twenty columns of a length of 56 meters was erected, with decorative designs, plaster mouldings and faience, in accordance with ancient and original Shiraz styles. The original tombstone was raised on an eight-sided platform on which eight stone columns stand.
These columns support the roof, which is canopy covered with copper sheeting, and the ceiling beneath decorated with a mosaic of enameled tiles.
Hafez and his beliefs were greatly admired by Goethe, the great modern German literature genius.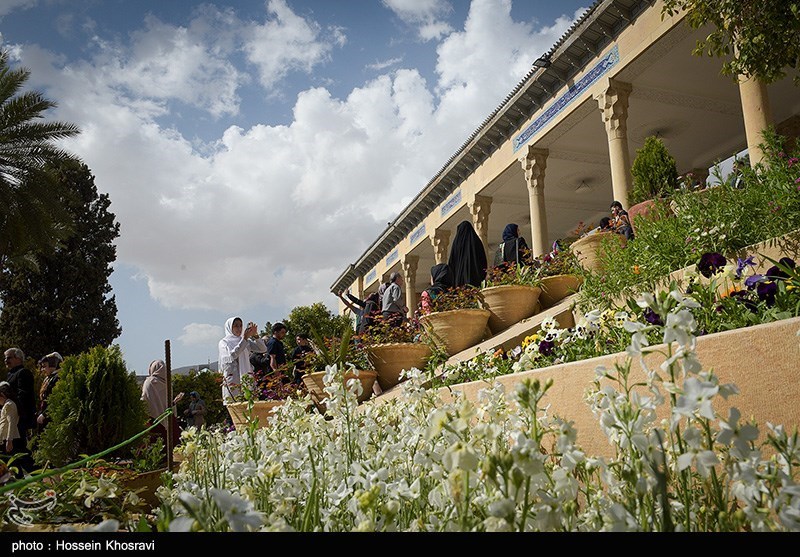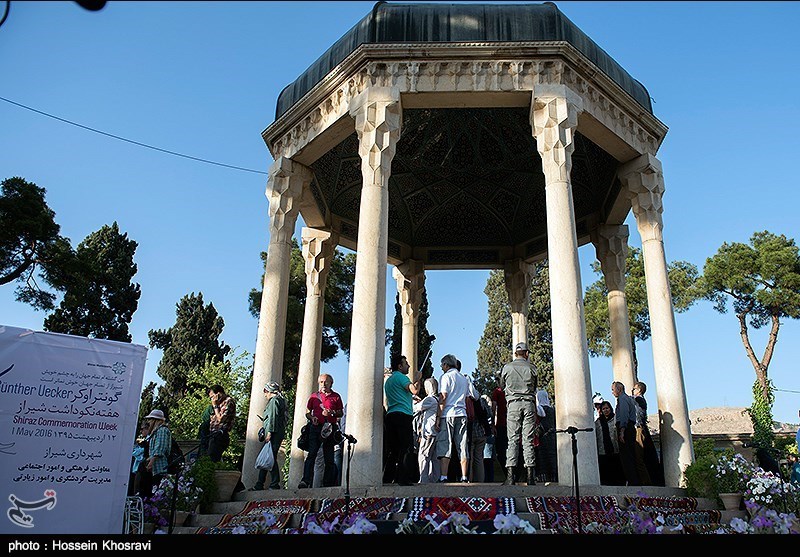 Source: Iranparadise.com