Hamas Organizes Mass Rally in Gaza against Israel's Annexation Plan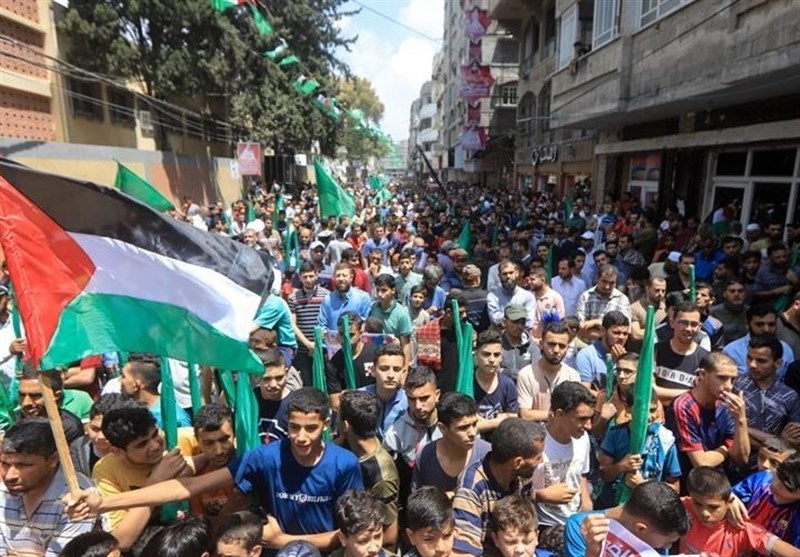 TEHRAN (Tasnim) - Palestinian resistance movement Hamas organized a mass rally in the Gaza Strip against Israel's plan to annex parts of the occupied West Bank.
Hundreds of Palestinians took part in the rally following Friday prayers to condemn the move. Participants, including political figures, expressed their total rejection of the annexation plan which is in line with the Trump Administration's so-called deal of the century.
Hamas official Mushir al-Masri said, "Our people are facing a historical juncture and a new chapter in the conspiracy targeting their cause through land theft, Jerusalem (al-Quds) Judaization, the West Bank annexation and all Zionist attempts aimed at liquidating our cause," the Palestinian Information Center said.
"A message to the enemy: We will move from scratch even if it costs us our blood and our children, and it should realize that it is running towards its end and demise," he said.
Israeli Prime Minister Benjamin Netanyahu has set July 1 for the start of cabinet discussions on extending Israeli appropriation to settlements in the West Bank and annexing the Jordan Valley.
Israel occupied the West Bank and East Jerusalem (al-Quds) during the Six-Day War in 1967. It later annexed East Jerusalem (al-Quds) in a move not recognized by the international community.
Palestinians want the West Bank as part of a future independent Palestinian state with East Jerusalem al-Quds as its capital.
But Israel's aggressive settlement expansion and annexation plans have dealt a serious blow to any prospects of peace. The last round of Israeli-Palestinian talks collapsed in 2014. Among the major sticking points in those negotiations was Israel's continued settlement expansion on Palestinian territories.