Confederate Monument Removed amid Anti-Racism Protests in Virginia (+Video)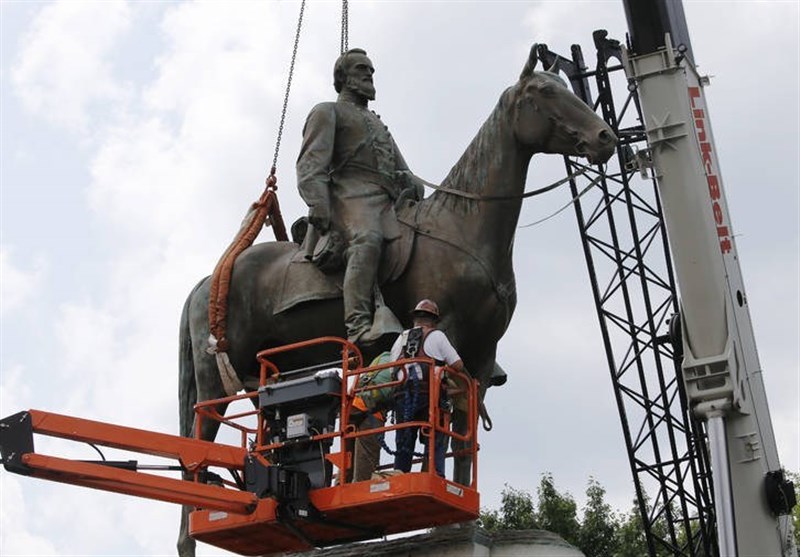 TEHRAN (Tasnim) – The Democratic mayor of Richmond, US state of Virginia, invoked his emergency powers on Wednesday to remove multiple Confederate monuments in the city, including a statue honoring Confederate Gen. Thomas "Stonewall" Jackson, from the city's historic Monument Avenue.
Crews spent part of Wednesday afternoon removing the Jackson statue as scores of onlookers watched the monument honoring the late slave owner who fought to preserve slavery begin to come down after standing in the city for more than 100 years. The bronze statue finally came down just before 5 p.m. ET as a thunderstorm drenched the crowd, which had erupted into cheers, NYTimes reported.
The move by Mayor Levar Stoney, who did not identify the other statues he plans to remove from Richmond -- the former capital of the Confederacy -- comes as a number of cities and states have in recent weeks been removing statues and other symbols that honor Confederate leaders amid a national reckoning with America's racist past.
Virginia became a focal point around the nationwide debate about removing Confederate monuments in 2017, after one person was killed and 19 others were injured in Charlottesville when white supremacists and neo-Nazis protested the removal of a statue of Confederate Gen. Robert E. Lee.