Viral Video Shows US Officers Handcuffing Black Girls on Hot Concrete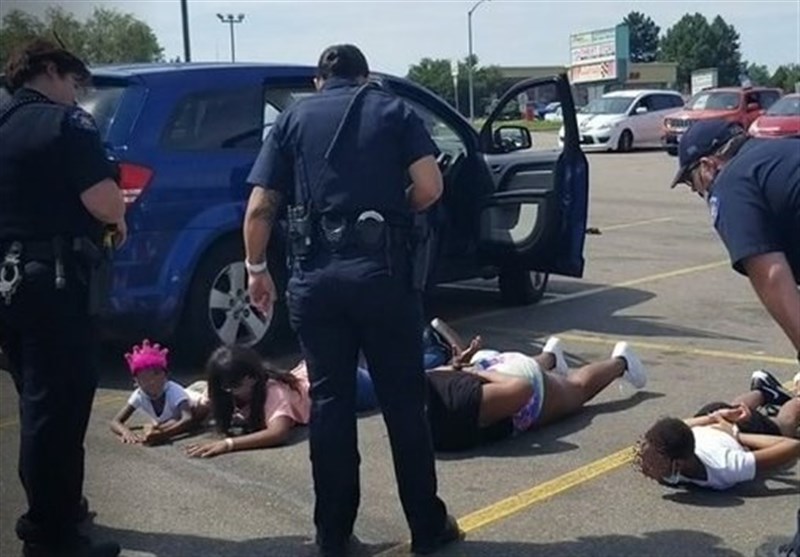 TEHRAN (Tasnim) – Police in Aurora, US state of Colorado, issued an apology after drawing guns on a woman and four minors after mistaking her car for one that had been stolen.
Police detained and handcuffed a Black mother and several children after mistaking their SUV for a stolen motorcycle from another state, CNN reported.
Social media users condemned the police action who handcuffed children and made them lay face down on hot pavement.
Brittney Gilliam was with her 6-year-old daughter, 12-year-old sister and 14- and 17-year-old nieces Sunday when police drew their weapons on them. Gilliam said she, her sister and 17-year-old niece were handcuffed while police verified that the car Gilliam was driving was not stolen.
A Facebook video shows the children on the ground in a parking lot, surrounded by police. They can be heard crying in the video. Onlookers try to intervene and question police about pulling their guns on their girls.
Gilliam and the four girls all are Black.
The incident comes amid a nationwide reckoning over police treatment of Blacks, spurred partly by the death in police custody of George Floyd in Minneapolis in May. Aurora police also have been under scrutiny for the 2019 death of Elijah McClain, a Black man who suffered a heart attack after police detained him.
"I have called (Gilliam's) family to apologize and to offer any help we can provide, especially for the children who may have been traumatized by yesterday's events," newly appointed Chief of Police Vanessa Wilson said late Monday. "I have reached out to our victim advocates so we can offer age-appropriate therapy that the city will cover."