Video Shows Joe Biden Calling Service Members 'Stupid'
September, 27, 2020 - 13:46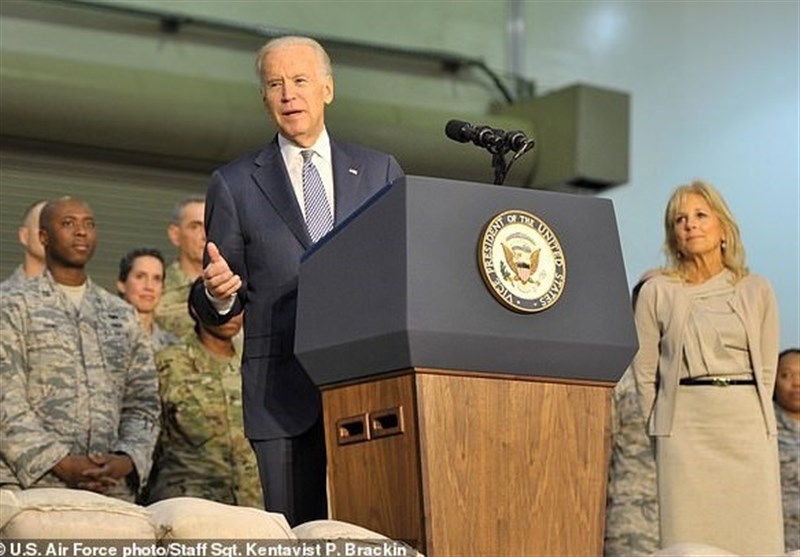 TEHRAN (Tasnim) – Video of former US Vice President Joe Biden jokingly calling Air Force troops 'stupid …' during a 2016 speech has resurfaced after conservatives blasted a brief clip of the speech.
Biden, who was President Barack Obama's Vice President at the time, had been with his wife giving a speech to 1000 members of the 380th Air Expeditionary Wing on March 7 2016 in Abu Dhabi, according to the Daily Beast.
Jill Biden had offered her remarks before the former vice president was introduced by 1st Lt. Karen Johnson, who he had nominated to attend the US Air Force Academy when he was still a Delaware senator.
It was then that Biden cracked his joke.
'I have incredibly good judgment,' he said to the crowd. 'One, I married Jill. And two, I appointed Johnson to the academy. I just want you to know that. Clap for that, you stupid b*****ds.'
Several service members chuckled at the joke as the crowd lightly applauded for Biden.
He continued: 'Come on, man. Man, you are a dull bunch. Must be slow here, man. I don't know.'
Biden did sing praise for Johnson and all the other service members who took the time to hear him and Jill speak.
The former Vice President recently released an ad critical of Donald Trump, after the president allegedly made remarks describing soldiers and those killed in combat as 'losers' and 'suckers.' Trump denies the allegations.
Biden campaign spokesperson Andrew Bates explained in a statement to the Daily Beast that the comments were made to 'jokingly encourage the audience to clap' for Johnson.
'Vice President Biden was jokingly encouraging the audience to clap for an airwoman on the stage, and a number of service members can be seen laughing and smiling at the comment. Seconds before, he praised them for 'the incredible sacrifices (they) make for our country,' Bates said.