Protesters Storm Rochester Police Station After Cops Pepper-Spray 9-Year-Old Girl (+Video)
February, 02, 2021 - 14:24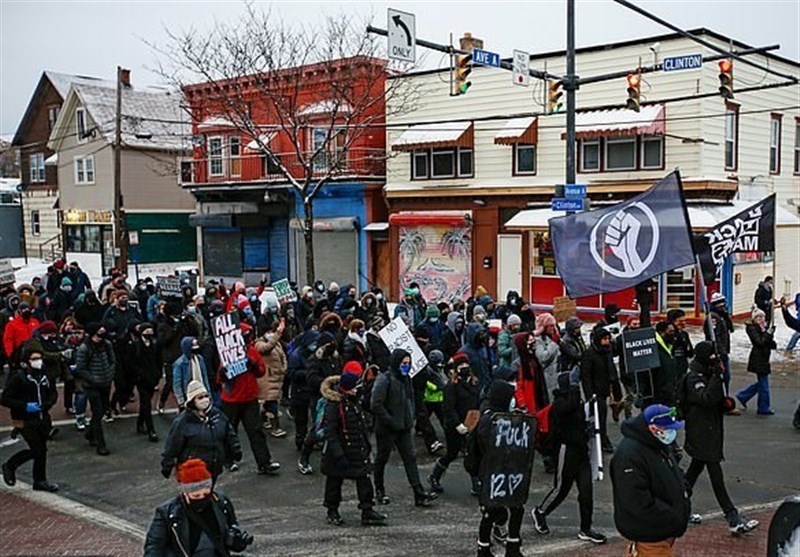 TEHRAN (Tasnim) – Black Lives Matter protesters overturned the barricades surrounding a Rochester, New York, police station on Monday night as they demonstrated against the actions of police officers who pepper sprayed a nine-year-old girl while they arrested her.
The barricades came down as it was announced the officers involved in the incident on Friday, have been suspended.
On Monday evening, the demonstrators chanted 'Black lives matter!' as they managed to tip over the metal barriers set up outside the precinct before making their way up to the inner parking lot fence.
The mayor of Rochester, New York, ordered the immediate suspension of the officers involved which saw the girl sprayed while she was handcuffed, in an incident that was all caught on police body-camera video.
Mayor Lovely Warren said in a message posted on Twitter that the suspensions, announced after she met with the city's police chief, would continue 'at a minimum' until a police internal investigation of Friday's arrest is completed.
'What happened Friday was simply horrible, and has rightly outraged, all of our community,' the mayor said. 'Unfortunately, state law and union contract prevents me from taking more immediate and serious action.'
Neither the mayor nor the police department made it clear exactly how many officers would be suspended.
New York Attorney General Letitia James said Monday her office was 'looking into' what happened. She called the incident 'deeply disturbing and wholly unacceptable.'
New York Governor Andrew Cuomo condemned the officers' actions in a statement issued Monday.
'As a human, this incident is disturbing and as a father, it´s heartbreaking-this isn´t how the police should treat anyone, let alone a 9-year-old girl,' the statement said.
'Rochester needs to reckon with a real police accountability problem, and this alarming incident demands a full investigation that sends a message this behavior won´t be tolerated,' he added.
The New York Civil Liberties Union said Rochester police should no longer be involved in mental health crises.
'There is no conceivable justification for the Rochester police to subject a 9-year-old to pepper spray, period,' NYCLU Executive Director Donna Lieberman said Monday.
Also Monday, two Rochester state lawmakers, Sen. Samra Brouk and Assemblyman Demond Meeks, both Democrats, announced legislation to prohibit use of chemical agents against minors by police officers.