Spokesman: Iran Pursuing Peaceful Plans by Making Enriched Uranium Metal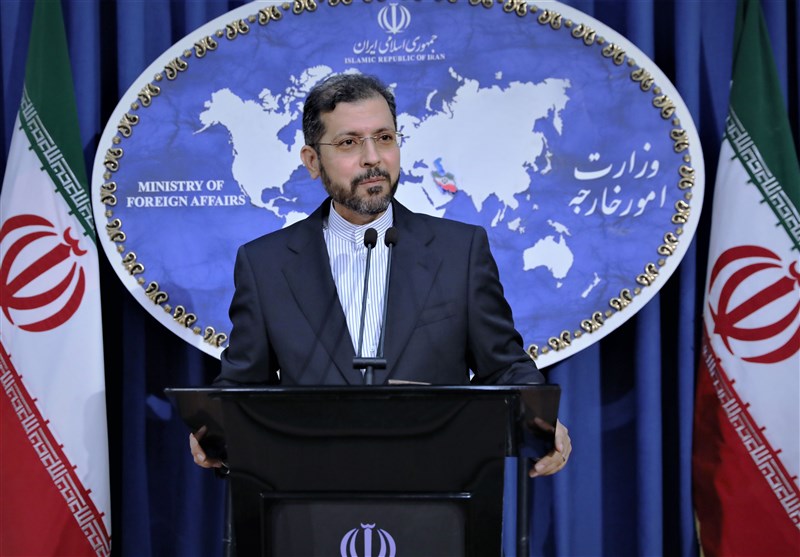 TEHRAN (Tasnim) – The spokesperson for the Iranian Foreign Ministry said the country's move to produce silicide fuel plate using 20% enriched uranium is for peaceful purposes at the Tehran Research Reactor, noting that the UN nuclear agency has been informed of the decision.
Saeed Khatibzadeh made the remarks on Wednesday in reaction to a statement from the foreign ministers of the UK, France and Germany who have voiced concern about Iran's decision to produce the first silicide fuel plate using 20% enriched uranium.
The Iranian spokesman refuted the statement, saying, "In line with standing procedures, we have (already) informed the International Atomic Energy Agency (IAEA) about this issue (the production process)."
"Contrary to these countries' claims, this product enjoys peaceful, pharmaceutical, and humanitarian applications, and its production is in no way contradictory to Iran's (nuclear) non-proliferation and safeguards commitments," the spokesman said.
The production process is part of the remedial nuclear measures that Iran began to take in 2018, a year after the US left the 2015 nuclear agreement with the country and others.
Washington then returned its illegal sanctions against Iran. The European trio bowed to the bans by stopping their trade with Tehran.
Khatibzadeh reminded that the European states were accusing Iran of violating its duties under the Joint Comprehensive Plan of Action (JCPOA), while they, themselves, had never "gone beyond words" in implementing their own obligations.
"The countries have aligned themselves with the US's oppressive pressure, enforcing the American extra-territorial and illegal sanctions," he said, Press TV reported.
The spokesman also addressed the US State Department's similar incessant criticism of the Islamic Republic, calling it "unacceptable."
He underlined that the "status quo" surrounding the JCPOA had come about as a result of the US's own unlawful and unilateral steps, saying President Joe Biden's administration had been keeping up predecessor Donald Trump's "defeated maximum pressure policy" against the Iranian people.
"No one should expect Iran to unilaterally observe its JCPOA commitments, while it is under tremendous pressure from the sanctions," Khatibzadeh said.
The spokesman, however, reiterated the country's position that it would stop its remedial measures and restore its cooperation with the IAEA to how it used to be, as soon as the sanctions were lifted.