Army Chief: Iran's Response to Threats Not Confined to Borders
November, 09, 2021 - 13:55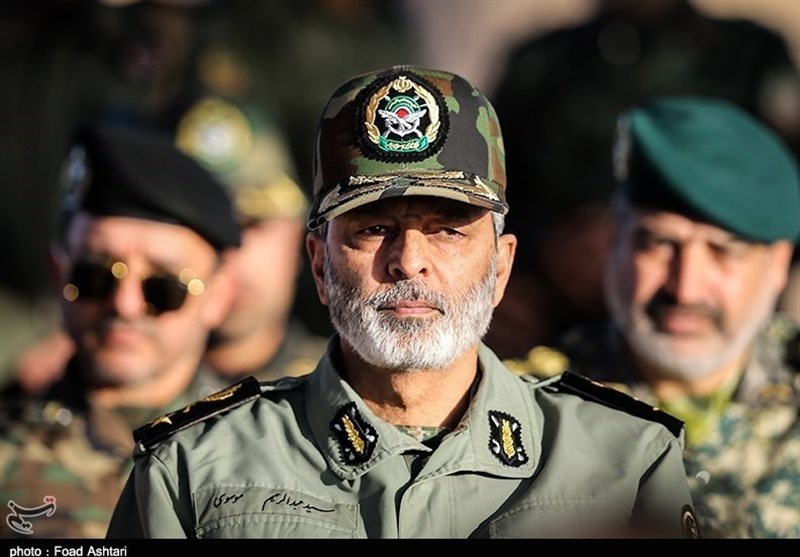 TEHRAN (Tasnim) – Commander of the Iranian Army Major General Abdolrahim Mousavi reaffirmed that the country's military power is solely for defense, but warned that the Islamic Republic's response to any threat against its interests will not be limited to the borders.
Speaking to reporters at the conclusion of a large-scale war game on Tuesday, the Army chief reassured the neighbors that Iran never favors aggression and invasion, as its military power and exercises are meant to defend its territory and aspirations.
He also cautioned the enemies that Iran's response to any threat against its interests will not be confined to the boundaries alone.
"If they (enemies) threaten our interests, we will threaten theirs wherever necessary. However, we bring about security for the regional states and our brothers, and are prepared to defend our nation," the senior general underlined.
Denouncing the attempts by the US and Europe to create a regional coalition, Major General Mousavi said those countries are themselves the generators of terrorism and insecurity which have upset security wherever they have been present.
He explained that such a coalition will not be formed since the plans, activities and objectives of those countries are incompatible.
"The Islamic Republic of Iran has proved throughout these years that it can be the axis of establishment of regional security vigorously," the commander said, advising the regional countries to join hands to ensure regional security through collective cooperation.
Iranian military and political officials have repeatedly warned the enemies against the dire consequences of a military action against the Islamic Republic.
In comments in April 2018, Leader of the Islamic Revolution Ayatollah Seyed Ali Khamenei said the US is aware of the crushing response it will have to face in case of taking military action against Iran.
The era of hit and run is now over, and the US knows that if it gets entangled in military action against Iran, it will receive much harsher blows, Ayatollah Khamenei underlined.
The US is seeking a way to evade the costs of standing against Iran and place them on regional countries, the Leader said, reminding certain regional countries that if they confront Iran, "they will definitely suffer blows and defeat".