Students Continue to Protest throughout Iraq's Kurdistan Region (+Video)
November, 23, 2021 - 16:49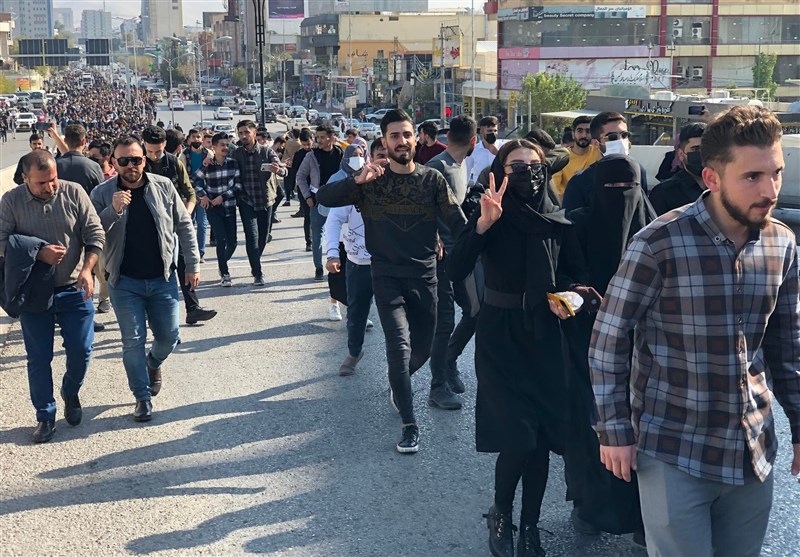 TEHRAN (Tasnim) – University students from across the Iraqi Kurdistan Region staged protests for the third day in a row, demanding that the Kurdistan Regional Government (KRG) resume issuing their monthly stipends.
Security forces used tear gas and rubber bullets on Tuesday as thousands of university students stormed the streets of Sulaymaniyah for the third day in a row calling on the government to reinstate their student allowances, which have been cut since 2014.
The students initially blocked the main Kirkuk- Sulaymaniyah road before heading towards the center of the city, where they were faced with a significant number of security forces.
Just meters away from the headquarters of Sulaymaniyah's ruling party, the Patriotic Union of Kurdistan (PUK), located in the city's Salim street, the protesting students were confronted by an extra number of security forces firing rubber bullets, teargas, and using water cannons to stop them from proceeding further.
Social media video footage showed protesting students responding to security forces with stones, and a few students picking up teargas canisters and throwing it back at the forces.
Protests also spread to other cities in the Region on Tuesday, with students from Halabja, Kalar, Koya, and Erbil taking to the streets.
The government used to pay a monthly allowance of 60,000 to 100,000 dinars per student. This was one of the expenses the government cut when it introduced austerity measures like salary cuts to cope with the financial crisis caused by the war with Daesh (ISIL or ISIS), low oil prices, and budget disputes with Baghdad.
Students in Sulaymaniyah were confronted with force on Monday as well, with riot police using tear gas and electric batons.
Several political parties in the Kurdistan Parliament on Tuesday condemned the use of force against protestors in separate statements.
This is not the first time Sulaymaniyah students have protested. In March, grade 12 students gathered in front of the education directorate calling for education reforms. Security forces fired live ammunition into the air to disperse the demonstrators.
Last December, teachers and other civil servants protested to demand the full payment of their salaries that had been slashed under austerity measures. They had not been paid in full or on time for most of the year.
Large protests took place in numerous towns in Halabja and Sulaymaniyah provinces. Eight civilians and two Peshmerga were killed.