Syria Raps UNSC's Silence Over Israeli Strike on Damascus Int'l Airport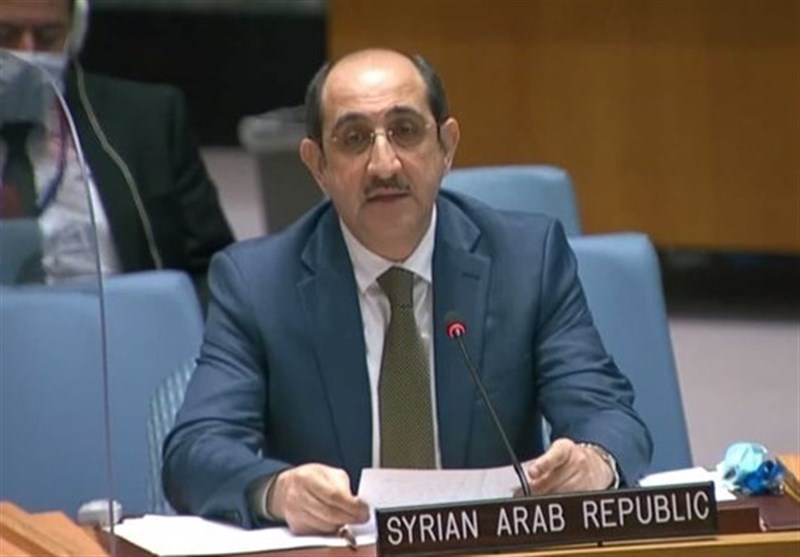 TEHRAN (Tasnim) – Syria's permanent representative to the UN, Bassam Sabbagh, deplored the UN Security Council's silence and inability to condemn Israeli aggression against Damascus international airport.
The Syrian diplomat stressed that the goal of the Israeli attacks on Syrian territory and the illegal presence of foreign forces on Syrian soil is to perpetuate chaos and terrorism and blocks the path to a political solution.
"Syria regrets that the Security Council was unable to condemn the Israeli aggression on Damascus International Airport, and deplores the fact that some countries obstructed the Council's condemnation of this aggression under pretexts that clearly reflect their blind bias in favor of Israel," Sabbagh said during a session of the International Security Council on the political situation in Syria.
He stated that the Security Council's inability to execute its tasks makes UN member states believe that they must rely on their own capacities to restore their rights rather than international credibility.
Sabbagh shed light on the extremely important and unprecedented steps taken by the Syrian government in recent months, which clearly demonstrated the Syrian state's firm keenness to support the path of national reconciliations and local settlements.
Sabbagh also praised the efforts made by the Russian and Iranian guarantors, in contrast to Turkey, which he said through its practices, reneged on its previous commitments and pledges under the Astana agreements and the Sochi understandings, reiterating Syria's rejection and condemnation of its statements about the establishment of the so-called "safe zone" in northern Syria.
Sabbagh added that Syria is a sovereign country that is proud of its identity and takes decisions with its national will and based on its constitutional duties and its concern for all its citizens and it seeks to establish and consolidate relations of friendship and constructive cooperation with various countries of the world.
Syria and the Israeli regime are technically at war due to the latter's occupation of Golan since 1967.
Israel maintains a significant military presence in the occupied territory, which it uses as one of the launchpads for attacks on Syrian soil.
Israeli attacks on Syria started to grow significantly in scale and frequency after 2011 when Syria found itself in the grip of foreign-backed terrorism.