Technical Abilities of Iran Well Suited for Joint Projects with Syria: FM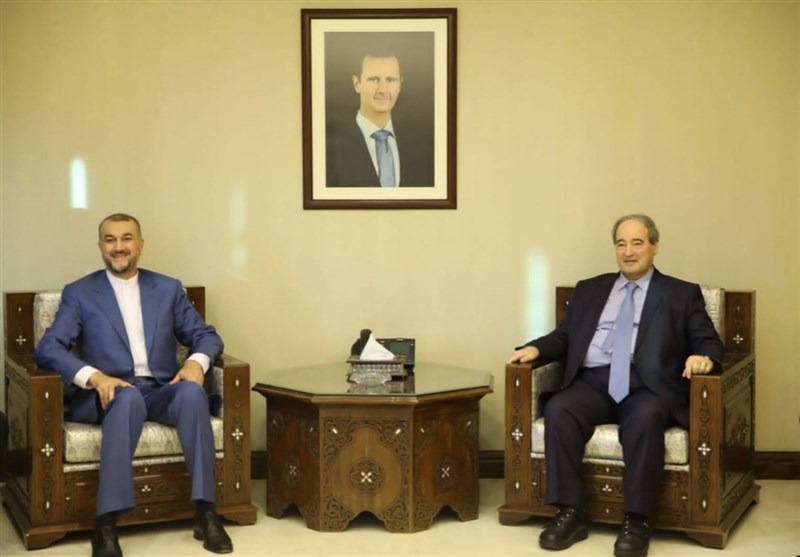 TEHRAN (Tasnim) – Foreign Minister of Iran Hossein Amirabdollahian highlighted the valuable contribution that the country's technical and engineering capabilities would make to the implementation of joint projects with Syria.
In a meeting in Damascus on Saturday, the Iranian foreign minister and his Syrian counterpart Faisal Mekdad weighed plans for the expansion of relations between the two countries and talked about the latest regional and international developments.
Describing the exchanges of high-ranking delegations as a sign of the strategic depth of ties between Iran and Syria, Amirabdollahian hailed a recent visit to Tehran by Syrian President Bashar al-Assad as a turning point in ties between the two sides.
He also pointed to the unparalleled role played by late Iranian commander Lieutenant General Qassem Soleimani in the regional fight against terrorism, particularly in Iraq and Syria, saying the joint efforts by Iran and Syria in battling terrorism and Takfiri groups has created a great asset for solidarity between the two nations.
Amirabdollahian highlighted the capacities of the two states for the enhancement of relations in the political, economic, industrial and commercial fields, saying Iran's technical and engineering capabilities can contribute to the implementation of the major joint projects.
For his part, the Syrian foreign minister described his Iranian counterpart's trip to Damascus as important considering the significant developments unfolding in the region and the world.
The visit, he said, would deepen the strong bonds between the two countries.
Expressing his country's readiness to promote ties with Iran in all spheres, Mekdad said President Assad's visit to Tehran was historic and crucial.
The top Syrian diplomat also expressed satisfaction with the positions adopted by Iran in the negotiations held within the Astana format and said Tehran's policies and current diplomatic approach were wise and smart.