World's Strategic Ways within Reach of Iran's AI-Powered Aircraft: IRGC Chief
January, 02, 2023 - 17:20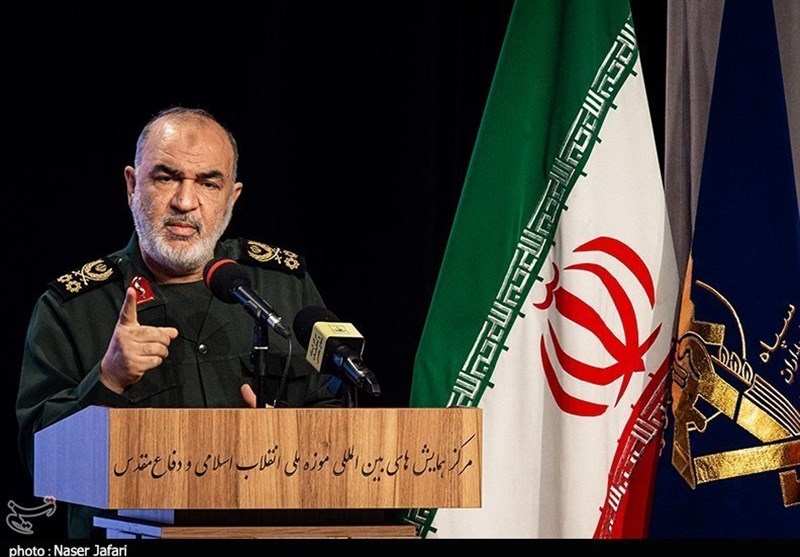 TEHRAN (Tasnim) – The commander of the Islamic Revolution Guards Corps (IRGC) said Iran has acquired aerial vehicles that use artificial intelligence and can make an impact on strategic ways around the world.
Addressing a conference in commemoration of late Iranian commander Lt. General Qassem Soleimani, held at the Iranian Foreign Ministry on Monday, IRGC Commander Major General Hossein Salami highlighted Iran's progress in the drone industry.
He said Iran is in possession of aerial vehicles that can take advantage of artificial intelligence to have an impact on many strategic ways across the world at any location in oceans within a very large radius.
"We do not threaten anyone, but rather defend our own national interests," the commander added.
The general also noted that the safest shipping lanes in the world are the routes that Iranian-flagged ships cruise in.
The enemies are aware that they will have to pay the price, wherever in the world it may be, if they do the smallest damage to Iran, he stated.
In August 2022, the general said the IRGC Navy has been instructed to bolster its presence in remote waters.
Highlighting the IRGC Navy's superiority over the enemies, the commander had noted that a range of weapons, including advanced missiles, highly stable vessels and various sea-based equipment, coupled with true faith of the servicemen, have made the IRGC Navy an invincible force.