US Army Transports Stolen Oil, Wheat From Syria to Iraq in 60 Trucks (+Video)
January, 06, 2023 - 14:19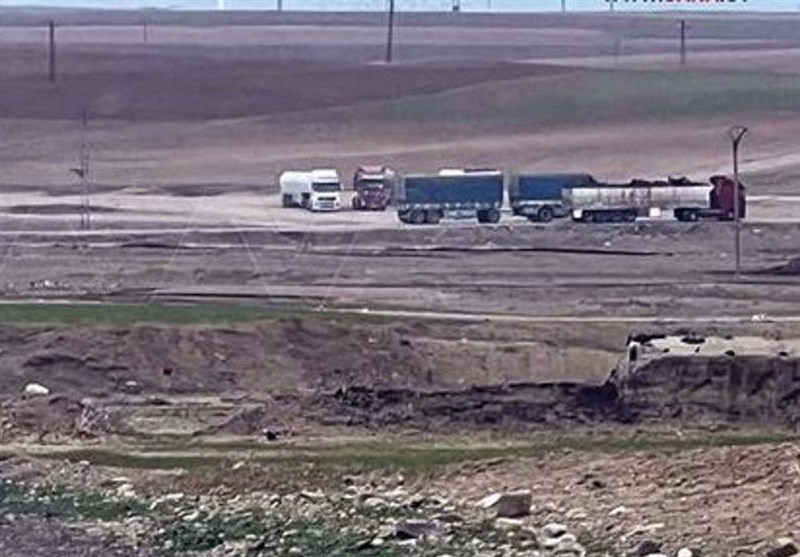 TEHRAN (Tasnim) - The US Army continues to transfer Syrian people's natural resources in a systematic and frequent manner from its sources in the country's east, while strengthening its unlawful military presence in the region rich in fossil and agricultural resources.
Quoting local sources in the countryside of Al-Hasakah province, the Sputnik reported from eastern Syria that the American occupation forces have exported 60 trucks and tanks loaded with oil and wheat since Wednesday and took them to their bases in the northern region of Iraq.
The sources who accompanied the crossing of the two stolen wheat and oil shipments in the countryside of the town of (Al-Yarubiyah) adjacent to the Syrian-Iraqi border, the easternmost countryside of Al-Hasakah province, confirmed that "a convoy consisting of 36 tanks loaded with stolen Syrian oil, was taken out by the American forces to their bases in northern Iraq, through the crossing." (Al-Walid) unlawful border crossing with Iraq.
"Another convoy of 24 trucks, followed by US military vehicles, carrying wheat seized from grain centers and silos in Hasakah, was also moved by the US army through the illegal (Al-Walid) border," the sources continued.
Furthermore, local sources in the Hasakah region revealed to a "Sputnik" reporter that "the American forces, in order to prove their robbery and looting of wealth, introduced a military convoy of vehicles and empty tanks to one of their locations in the northern neighborhood of Hasakah."
"The American convoy that crossed the Iraqi-Syrian border, consisting of 30 military vehicles and a truck loaded with military equipment and fuel tanks, landed at the illegal (Tal Baidar) base, north of Hasakah on Thursday, January 5," the sources continued.
Previously, the Syrian Ministry of Oil disclosed that "the American occupation forces and their mercenaries steal approximately 66,000 barrels per day from the territory they occupy in eastern Syria, out of their total daily production of 3,80,000 barrels."
US army forces are actively exporting stolen Syrian oil through illegal crossings in northern and northeastern Syria in preparation for sale in nearby black markets such as " Iraqi Kurdistan " and other destinations, including the Idlib region, which is occupied by the terrorist organization "Al-Nusra Front".
The areas controlled by the US army and its "Qasd forces" in eastern Syria are experiencing popular outrage and a tribal uprising against their practices, which include stealing oil, wheat, and wealth, imposing taxes, preventing education and education, launching compulsory conscription campaigns, and arbitrary arrests of civilians.