US Muslim Lawmaker Ousted from House Committee for Mocking Pro-Israel Politicians
February, 03, 2023 - 17:29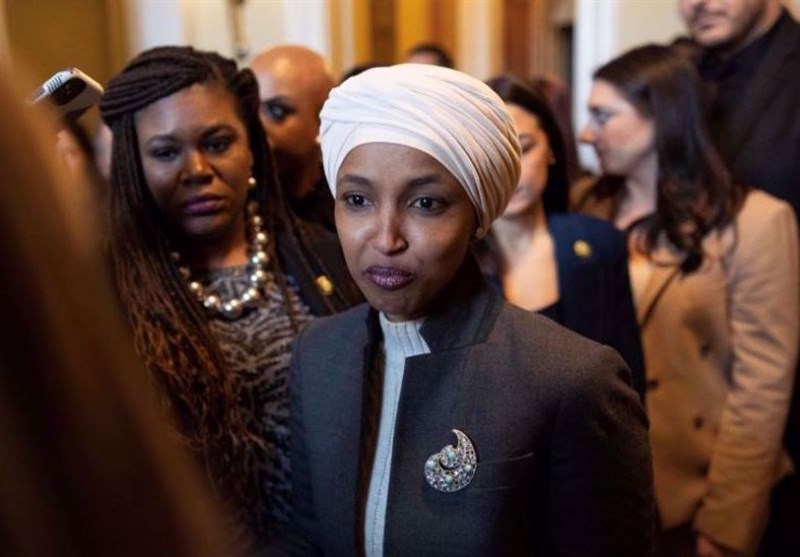 TEHRAN (Tasnim) - Republicans in the US House of Representatives have voted to remove Ilhan Omar from the Foreign Affairs Committee, over mocking of politicians for their unwarranted support of the Israeli regime.
The vote, which passed 218-211 on Thursday, came after Omar, a Muslim congresswoman, mocked American politicians for their support of the Israeli regime, suggesting that their backing was motivated by money.
In a tweet from 2019, Omar wrote, "It's all about the Benjamins, baby," a reference to Benjamin Franklin's picture on $100 bills. Critics have called the tweet anti-Semitic, while Omar has maintained that the accusations stem from xenophobia and racism.
Throughout her time in Congress, Omar has been a vocal critic of the pro-Israel politicians and has described Israel as an "apartheid" regime. She has also criticized the American Israel Public Affairs Committee (AIPAC) for its role in shaping US policy.
Speaking before the vote, Omar said her attackers would not be able to silence her. "My leadership and voice will not be diminished if I am not on this committee ... my voice will get louder and stronger," she stated.
House Minority Leader Hakeem Jeffries, a Democrat, stated that the measure against Omar was a form of "political revenge" for the removal of Republicans Paul Gosar and Marjorie Taylor Greene from their committee assignments in 2021.
Omar remains among a minority of lawmakers who strongly oppose the apartheid regime in Occupied Palestine. She is also against the US sale of arms abroad and fiercely opposes the country's current gun laws.
Thursday's vote marks a major setback for Omar, one of the first two Muslim women elected to Congress and a vocal critic of Israel's policies towards Palestinians.