America's Drug Crisis Laid Bare in Shocking Images (+Video)
February, 06, 2023 - 15:14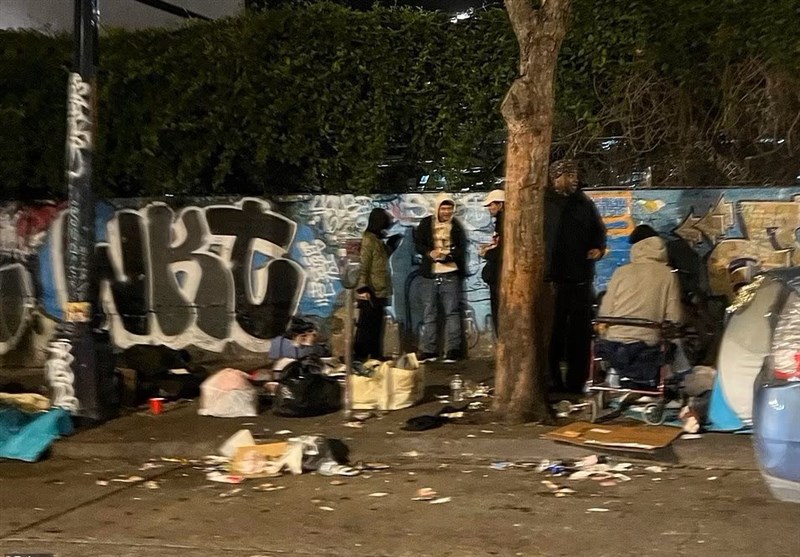 TEHRAN (Tasnim) – Images depicting the devastating effects of America's drug crisis have been released, painting a bleak picture of the country's struggle with substance abuse.
The images released by the Daily Mail, show the aftermath of drug overdoses, with individuals appearing lifeless and abandoned in public spaces.
The opioid epidemic, in particular, has ravaged communities across the US, leading to an increasing number of fatal overdoses. The use of illegal drugs, as well as prescription drug misuse, has also contributed to the problem.
Harrowing images show individuals passed out on the street, with their bloodied and bruised limbs sprawling on the sidewalk of New Orleans' Bienville Street.
People use underpasses and derelict corners of the city to inject themselves in broad daylight - in the clear sight of passersby.
The opioid epidemic in the US continues to escalate, with 107,622 deaths from drug overdoses in 2021, a 15% increase from the year prior.
Fentanyl is a major contributor to this crisis, with just two milligrams being deadly. A new drug, Xylazine or "tranq", is also exacerbating the situation as it is often combined with fentanyl, causing flesh-eating abscesses and muscle paralysis.
Washington and Oregon rank high in illicit drug use disorder and drug-related deaths in 2021 surpassed 2,000 in Washington, a 66% increase from two years prior.
Seattle authorities have warned that all drugs obtained on the street, online or from friends could contain fentanyl.
Philadelphia has become the epicenter for Xylazine, with emergency rooms reporting a four-fold increase in skin and soft tissue injuries in the last three years. Shocking images reveal vulnerable people in a trance-like state and openly using drugs in plain sight.
The use of tranq-infused fentanyl has led to the development of "zombie camps" in Kensington and openly used drugs in plain view.
So-called "zombie camps" have formed in Kensington, Philadelphia, with blocks overrun by people tumbling over during their fatal highs.
Tranq increases the chance of fatal overdose, especially when combined with fentanyl, as it causes a sedative effect and overdoses cannot be reversed with naloxone, the emergency opioid overdose reversal drug.
Xylazine is a veterinary tranquilizer that is not approved for human use, and it is being mixed with fentanyl in some illegal drugs. The combination of these two substances is highly dangerous and has caused many fatal overdoses, particularly in communities such as Philadelphia and California.
The use of fentanyl and opioid drugs has increased significantly in California and has become a major concern for public health and safety.
In response, a senate bill has been introduced to require all K-12 schools to carry a supply of naloxone in case of an overdose. The state has also allocated a $97 million budget to tackle the crisis.
In San Francisco, the number of fatal overdoses from fentanyl continues to be high, with over 600 deaths in 2022. The city is trying to address the problem by distributing naloxone, providing education on recognizing and responding to overdoses, and opening new facilities for recovery and treatment.
In Portland, fentanyl use is also a major issue and the number of deaths from overdoses has been increasing. The police have seized a large amount of the drug, but the issue remains prevalent, with users easily able to obtain it for as little as $1 per pill.
Narcotics killed 492 in New Orleans in 2022, when the same figure seven years earlier was just 92.
Officials are struggling to find an effective solution, but some believe that providing incentives for people to get sober may help.
Rainbow fentanyl - which are deadly doses but are dressed up to look like Skittles - have become rampant on New Orleans' streets.
Just weeks ago, DEA Special Agent in Charge Brad Byerley revealed there were overdoses and drug poisonings being seen in children as young as aged 12.
A tiny ounce on the end of a pencil is enough to kill a person - and the way the drugs are being manufactured now means that a 'casual observer in a nightclub isn't going to be able to tell the difference'.