KANS Scientific Competition Concludes with Six Winners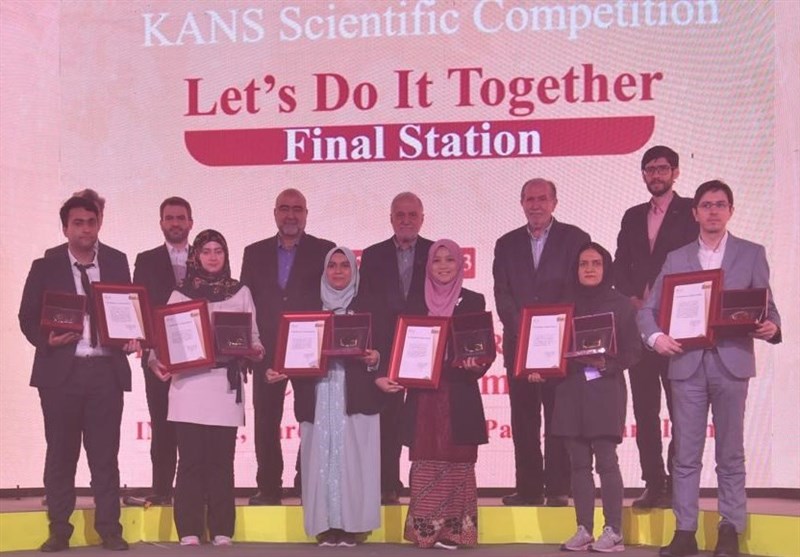 TEHRAN (Tasnim) – The 3rd KANS (Knowledge Application and Notion for Society) scientific competition, held alongside the International Innovation and Technology Exhibition (INOTEX 2023) at Tehran's Pardis Technology Park, wrapped up with an award ceremony where six winners were honored.
During the closing ceremony, winners from various fields, including ICT & AI, Agriculture & Food Industry, Electronics & Robotics, Energy, Water & Environment, and Health & Med-Tech, delivered speeches highlighting their scientific achievements.
Additionally, presenters had the opportunity to pitch their innovative ideas in 60-second presentations, covering topics such as green magnetic nano engine oil, air quality prediction using RL, wearable sensors for pre-disease diagnostics, and nasal drug development for brain protein prevention.
The permanent element of Khadem Al-Mustafa (PBUH) was also unveiled at Pardis Technology Park during the ceremony, with the presence of notable figures such as Rouhollah Dehghani Firouzabadi, Vice-President for Science, Technology and Knowledge-Based Economy.
KANS, organized by the Mustafa (PBUH) Science and Technology Foundation (MSTF), aims to address challenges faced by scientific and industrial centers, ultimately striving for societal improvement.
The winners in each field were awarded during the ceremony, including individuals from Malaysia, Qatar, Iran, and Azerbaijan, who presented groundbreaking research on topics ranging from obstacle avoidance for the visually impaired to anti-spoiling agents for postharvest fruits and immunogenicity evaluation of a nanoparticle vaccine candidate against SARS-CoV-2.
Siti Fauziah Toha from Malaysia won in "ICT & AI" with her project on AI-based obstacle avoidance and geospatial route prediction for the visually impaired. Iman Saleh from Qatar was the winner in "Agriculture & Food Industry" for her research on anti-spoiling agents for postharvest fruits. Azam Karami from Iran secured victory in "Electronics & Robotics" with an automatic fault detection system for power transmission lines. Nur Faeza Abu Kassim, another Malaysian winner, claimed the top spot in "Energy, Water & Environment" with her innovative solution for combating dengue. Sina Mozaffari-Jovin from Iran emerged as the winner in "Health & Med-Tech" for evaluating the immunogenicity of the mRNA-lipid nanoparticle vaccine candidate Iribovax against SARS-CoV-2. Nadir Atayev, a young Azerbaijani PhD student, was recognized as "The Future Star" for his groundbreaking research in electronics, telecommunication, and aerospace hardware, particularly in optical communication subsystems for ground and in-orbit nanosatellites.
The KANS scientific competition, held every two years, promotes the development of science and technology among young researchers and scientists under 45 years of age within the Islamic world. The call for the 3rd round of the competition was issued in October 2022, inviting applicants to submit 3-5 minute videos showcasing their innovative solutions to significant problems in the Islamic world.