French Protesters Rally against Pension Reform in Paris (+Video)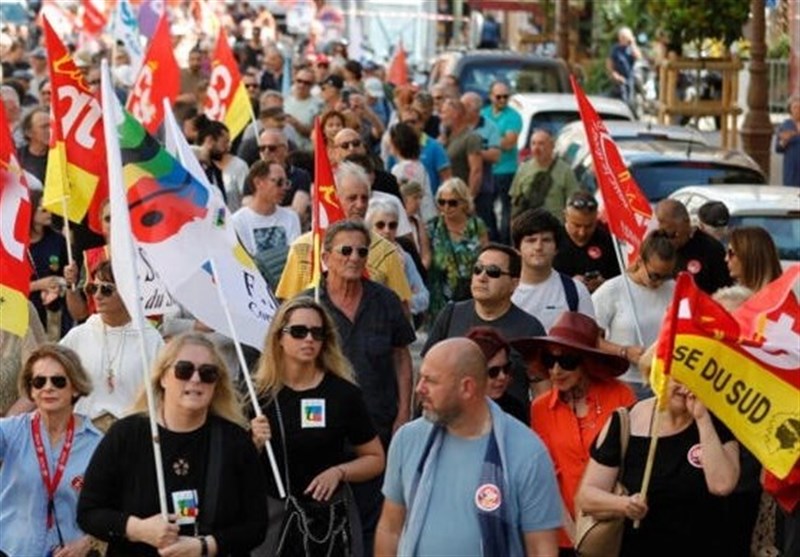 TEHRAN (Tasnim) – Protesters are taking to the streets of Paris on the 14th day of action against the government's pension reforms on Tuesday.
Authorities anticipate between 400,000 to 600,000 protesters across 250 sites nationwide, with 40,000 to 70,000 expected in Paris.
Around 11,000 security officials, including 4,000 in the capital, are deployed to handle the demonstrations. Paris police chief Laurent Nuñez warned of potential riots.
The SNCF railway company is likely to face disruptions, with an average of "nine trains out of ten" running and "normal" traffic on the RATP métro network in the Paris region. One-third of flights from Paris-Orly airport have been canceled.
The government aims to enforce the pension reform law on September 1 and hopes the protests will eventually subside.
Protesters briefly occupied the headquarters of the Paris Summer 2024 Olympics Committee.
In a demonstration against the pension reform law, electricians cut power to a significant area in Issy-les-Moulineaux, a commercial district south of Paris. The blackout affected the headquarters of Orange and France Médias Monde, including FRANCE 24 and Radio France Internationale (RFI).
In the city of Rennes and its metropolitan area, protesters blocking fuel depots disrupted the bus network on Tuesday morning.
Over the past months, massive protests and strikes have been staged in opposition to the government's pension system changes, particularly the increase in the retirement age from 62 to 64. The Constitutional Council partially approved the key aspects of the pension reform plan on April 14, leading to its signing into law by President Emmanuel Macron. Labor unions and opposition parties have organized numerous nationwide general strikes since January.