IRGC Commander Warns Enemies against Provocative Moves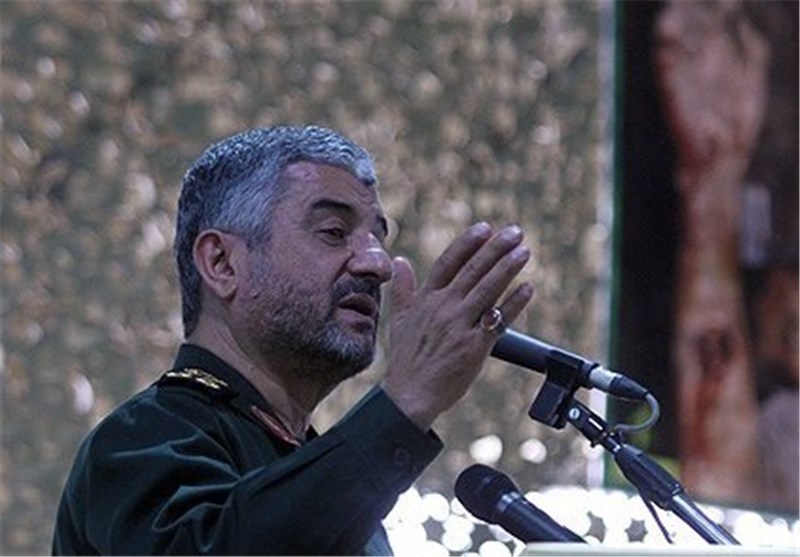 TEHRAN (Tasnim) – The commander of the Islamic Revolution Guards Corps (IRGC) cautioned the enemies of Iran against provocative acts, saying that the country has the right to defend itself against direct or indirect threats.
"We consider defense as our inalienable right," Major General Mohammad Ali Jafari said in a gathering of IRGC navy personnel during his visit to the Persian Gulf and the Strait of Hormuz on Sunday.
He pointed to the recent developments in the region, and stated the regional upheavals have emerged as threats, and "we need awareness and vigilance in the face of them."
"The IRGC…will definitely pursue and monitor threatening moves with sharp eyes," he stated.
The Iranian commander also added that Iran's behavior is a function of the enemy's measures, noting that if the enemy's moves turn into any sort of direct or indirect threats, Tehran will take whatever defensive action it deems necessary.
Major General Jafari, however, stressed that the enemies do not dare to launch any military attack on Iran due to the country's full preparedness and capabilities to deter foreign threats.
Several Iranian military officials have on many occasions reiterated the country's full preparedness to counter foreign threats.
On August 19, a senior Iranian commander said the country's impressive achievements in air defense sector have made the enemies and world powers realize that they cannot "bring Iran to its knees" through hard war.
"Today, we have reached such a high level in production and invention of air defense equipment and systems that the world's superpowers have realized that it is impossible to defeat Iran through hard wars," Lieutenant Commander of Khatam al-Anbia Air Defense Base for Executive Affairs General Shahrokh Shahram said.