Leader Describes Hajj as Opportunity to Remedy Islamic World's Vulnerabilities
TEHRAN (Tasnim) - Supreme Leader of the Islamic Revolution called on the Muslim people to strengthen unity and rapport as a privilege of Hajj pilgrimage, and described the event as a perfect opportunity to remedy the damages inflicted to the Islamic world.
October, 14, 2013 - 12:40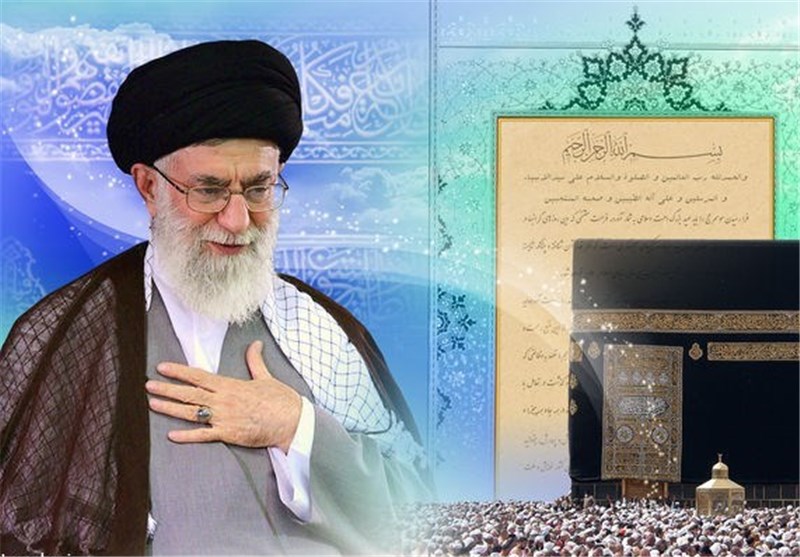 In a message to the Hajj Congress on Monday, Ayatollah Seyed Ali Khamenei described the ritual pilgrimage as a unique opportunity to remedy a broad range of "vulnerabilities of the Islamic world."
"The fundamental and pivotal remedy could be summarized in two key phrases, both of which are among the most remarkable lessons of the Hajj: Firstly, the unity and fraternity of Muslims under the flag of oneness, and secondly, recognition of the enemy and confrontation with its plots and methods," part of the message read.
The Supreme Leader further made it clear that the true enemies of Islam at the time being are "the front of global arrogance and the criminal network of Zionism," and urged the Muslim people to identify the enemy and its affiliates in order to thwart their plots.
"The hegemonic powers, led by the US, cover their real face through the vast network of their advanced mass media, and under the pretext of defending human rights and democracy they adopt a deceptive behavior towards the public opinion of world nations. They claim to be defending the the rights of nations while the Islamic nations keenly feel the consequences of their plots more than ever," read another part of the message.
In relevant remarks in a gathering of the Iranian young elites and top students here in Tehran on October 9, Ayatollah Khamenei lauded the awakening movement in the regional countries, saying despite the wishes of the West this movement still continues unabated.
"Awakening of nations and (their) standing, with empty hands, against humiliating behavior of the West and the US was a big event, however, it (the awakening movement) is not over yet, contrary to the West's presumption," he stated at the time.
The Leader described the regional events over the past two years as a "historical turning point" and noted, "Its fate has not been finalized yet, and westerners are also worried about these events."
Ayatollah Khamenei said the awakening movement received its impetus from the Islamic Revolution which from the very beginning heralded a "national, deep, pious, stable, capable and developing power."

"In analyzing the entire political, economic, regional and international events and issues, this realistic and macro prospect should prevail that there is a powerful front in the world that does not want the Islamic Iran turn into a powerful country and nation in diverse fields, particularly in science and technology," the Leader stated.