Iran Negotiator Says Talks Have Reached Critical Situation
TEHRAN (Tasnim) – Iran's Deputy Foreign Minister Seyed Abbas Araqchi described the five-hour intensive negotiations between Iranian foreign minister, US secretary of state and the EU foreign policy chief as constructive, adding that the talks have made progress.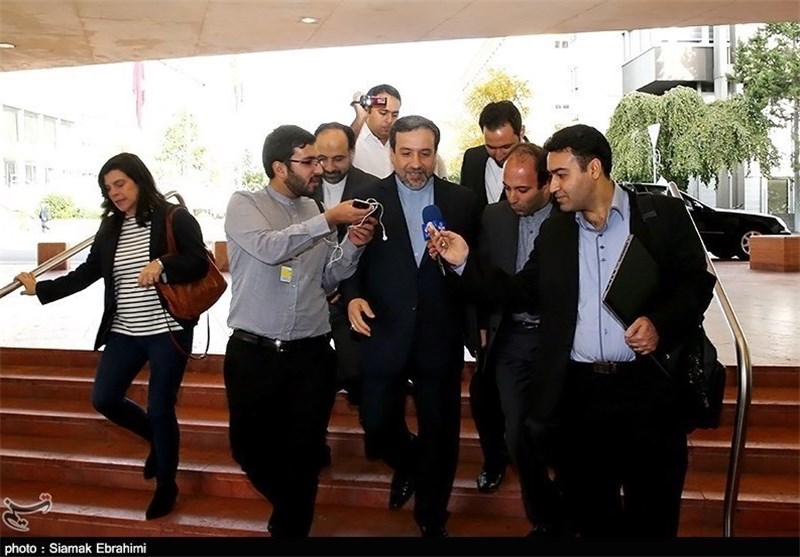 He made the remarks after Iranian Foreign Minister Mohammad Javad Zarif, US Secretary of State John Kerry and the European Union Foreign Policy Chief Catherine Ashton wrapped up a trilateral meeting in the Swiss city of Geneva on Friday night.
"Progress was achieved, and the talks were good, and the negative points were diminished," Deputy Foreign Minister Araqchi, who is also one of Iran's lead negotiators, said of the talks.
The ongoing talks between Iran and the G5+1 (the US, Russia, China, Britain, France as well as Germany) over Tehran's peaceful nuclear program kicked off in Geneva on Thursday, November 7.
"The meeting was productive but we still have lots of work to do," added Araqchi,confirming the negotiations would continue on Saturday.
A US State Department official said at the end of Friday's talks that "Over the course of the evening, we continued to make progress as we worked to narrow the gaps. There is more work to do. The meetings will resume tomorrow morning."
The expected arrival of Russian Foreign Minister Sergei Lavrov and China's foreign minister or his deputy has fueled optimism that the presence of a full complement of top diplomats from the six countries negotiating with Iran was the prelude to the announcement of a deal.
"The negotiations have reached (a) critical, very sensitive situation, and it needs decisions at higher levels," Araqchi told reporters in Geneva.
Negotiations on Saturday will include a meeting of John Kerry, EU foreign policy chief Catherine Ashton and Zarif.
Earlier on Friday, US Secretary of State John Kerry stated upon his arrival in the Swiss city of Geneva that no agreement has yet been reached on Iran's nuclear program, and added that negotiators are trying to narrow the differences.
"I am delighted to be here at the invitation of Catherine Ashton to try to work with colleagues to see if we can narrow some differences… There are still some things on the table that are unresolved. I want to emphasize there is not an agreement at this point," Kerry said on Friday evening on his arrival in Geneva, which hosts a series of tight nuclear negotiations between Tehran and the six major world powers.