Tehran-G5+1 Talks Likely to Go to Next Round: Iran Negotiator
November, 09, 2013 - 18:45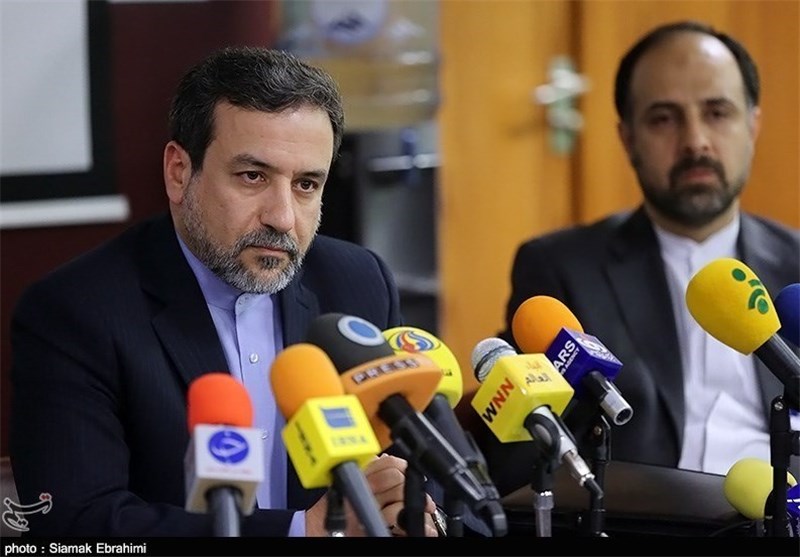 TEHRAN (Tasnim) – Iran's Deputy Foreign Minister Seyed Abbas Araqchi said the ongoing nuclear talks between Iran and six world powers will either be concluded tonight or will resume in a fresh round later.
"The talks will end tonight, or they will continue in the next round... It is not clear yet. Maybe after the trilateral meeting we can comment on it," Araqchi told reporters on Saturday evening, before the start of a trilateral meeting between Iranian Foreign Minister Mohammad Javad Zarif, US Secretary of State John Kerry and Catherine Ashton, who coordinates the talks with Iran on behalf of the powers, in Geneva.
The French, German and UK Foreign Ministers - Laurent Fabius, Guido Westerwelle and William Hague - are also in Geneva.
The participation of Russian foreign minister and a Chinese top diplomat in this round of talks has fueled optimism that the presence of a full complement of top diplomats from the six countries negotiating with Iran was the prelude to the announcement of a deal.
The talks which were initially supposed to last for two days were extended into Saturday after signs that an agreement on Iran's nuclear program was within reach.
Sudden progress in meetings between Iran and the group of nations known alternatively as the G5+1, P5+1 or EU3+3 -- the United States, France, Britain, Russia, China and Germany -- comes after years of stalemate between western nations and Iran over its nuclear program.
Meanwhile, British Foreign Secretary William Hague said Saturday that world powers needed to seize the opportunity to reach a deal as talks over Iran's nuclear program entered a third day in Geneva.
"There is now a real concentration on these negotiations so we have to do everything we can to seize the moment and seize the opportunity to reach a deal that has eluded the world," Hague told journalists.
"It is too early to say that we will reach a successful conclusion today," he said.
"Any agreement is going to require some flexibility on all sides... (the deal) has to be one that the world has confidence in, that the world as a whole can have confidence in."
But at the same time, French Foreign Minister Laurent Fabius told France Inter radio there are major stumbling blocks in an initial proposed text on a deal.
Fabius on Saturday poured cold water on hopes that a deal on Iran's nuclear program would be hammered out at talks currently taking place in Geneva. Speaking on French radio, Fabius said there was "no certainty" of any agreement.
"There is an initial draft that we don't accept ... at the moment I have no certainty that we can reach a conclusion," the French minister said on Saturday morning.