British MPs to Question Guardian Editor over Snowden Leaks
TEHRAN (Tasnim) - Alan Rusbridger, the editor of the Guardian, is to be questioned by British lawmakers next month over the publishing of intelligence files leaked by former NSA contractor Edward Snowden, after UK spy chiefs warned that it had damaged national security.
November, 10, 2013 - 17:15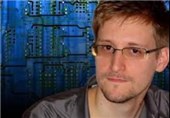 "Alan has been invited to give evidence to the home affairs select committee and looks forward to appearing next month," a Guardian spokesman said.
UK spy chiefs were questioned Thursday by the intelligence and security committee. The Committee is made up of MPs and peers and normally takes evidence in secret. This hearing was televised but with a two minute delay for national security reasons.
The head of MI6, Sir John Sawers, said that the Guardian's actions had been irresponsible, RT reported.
"They've put our operations at risk. It's clear that our adversaries are rubbing their hands with glee – Al-Qaeda is lapping it up," he said.
While the head of GCHQ, the UK equivalent of the NSA, Sir Iain Lobban, said that his organization had monitored terrorist groups discussing in "specific terms" how to avoid communicating in such a way that could be detected.
Rusbridger, who has been the editor of the left-leaning British daily since 1995, defended his papers actions saying that it has provoked debate on the issue of mass surveillance where MPs failed to do so.
The first Snowden leaks were broken in the Guardian by Brazil-based journalist Glen Greenwald.
In August, the Guardian revealed that it decided to destroy the computer hard drives containing copies of secret files leaked by Edward Snowden after the threat of legal action from the government.
Also in August, Greenwald's partner, David Miranda, was detained at London's Heathrow airport under the Terrorism Act for ferrying documents between Greenwald and Berlin based film maker Laura Poitras, who has also been working on stories related to the NSA files.